Iran Human Rights (IHRNGO) – Analysis of protester deaths and eye injuries during the "Woman, Life, Freedom" nationwide protests reveals that repressive forces intentionally and systematically targeted women's eyes and faces. 
According to Iran Human Rights data, women made up 9% of slain protesters and 28% of those who sustained eye injuries. In a sample from Mahabad (West Azerbaijan province), 15% of protesters killed were women, while they made up 56% of protester eye injuries.
Publishing this report, Iran Human Rights reaffirms its previous findings with more evidence that the Islamic Republic intentionally and systematically targeted protesters' eyes.
Director, Mahmood Amiry-Moghaddam said: "IHRNGO's analysis shows that the brutal crimes committed during the protests by the Islamic Republic were planned, co-ordinated and calculated. These crimes were by no means isolated. The Islamic Republic leader, Ali Khamenei and all the perpetrators of such crimes must be held accountable."
Iran Human Rights has received many reports of eye injuries from the nationwide protests in 2022. Many of the cases recorded by Iran Human Rights have since been shared on social media or by the media, particularly those who have managed to escape Iran and speak publicly. Some of the injured have also preferred to submit their stories and evidence of their injuries with human rights organisations on the condition of anonymity. As with all protester cases, many of the injured and their families have also been forced and threatened into silence.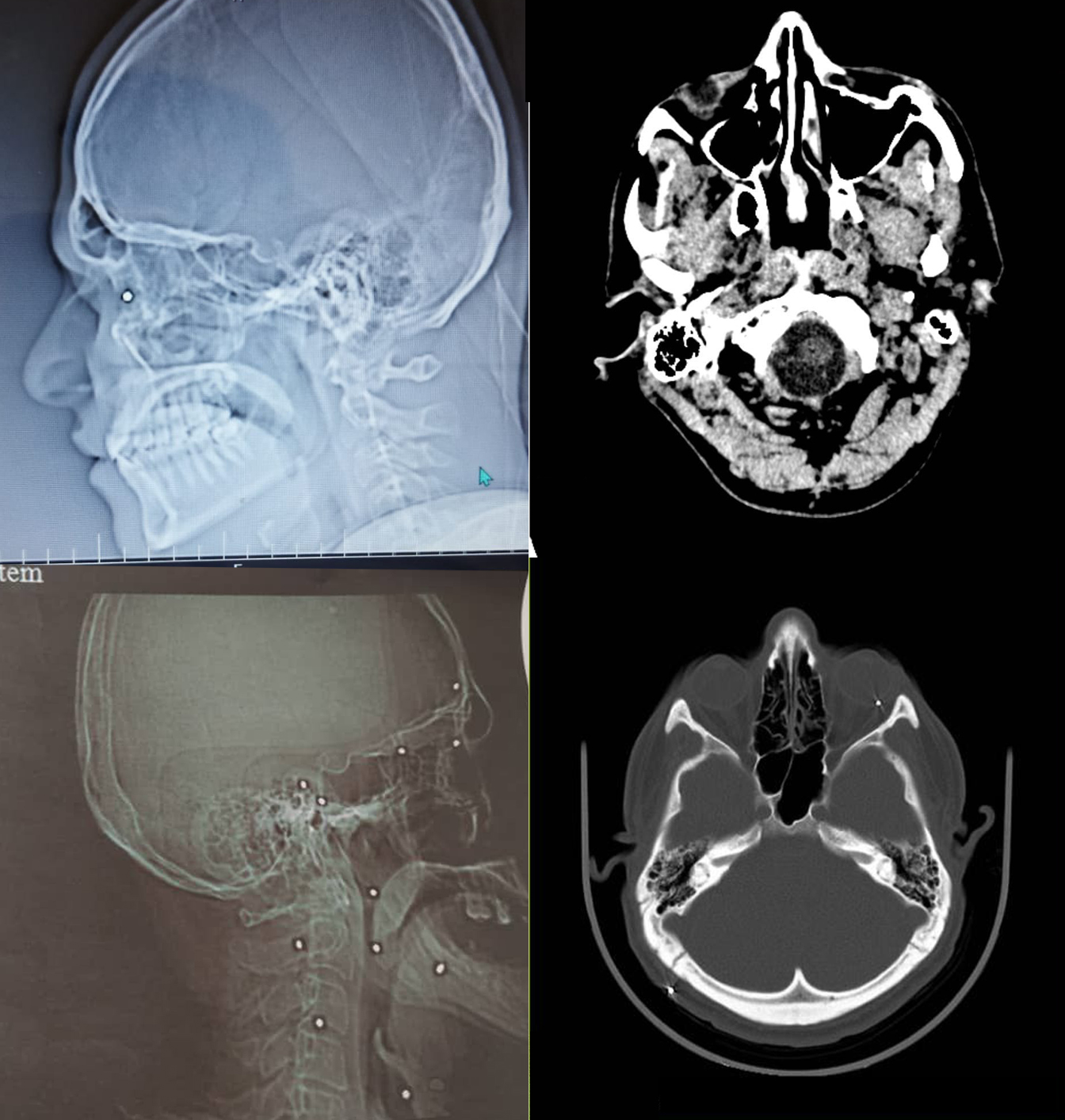 On 19 November 2022, two months after the start of the nationwide protests, the New York Post reported that "ophthalmologists from three large hospitals in Tehran – Farabi, Rasoul Akram and Labbafinejad- estimated that their wards had admitted a total of more than 500 patients with grave eye injuries since the start of the protests in mid-September." The number of eye injuries therefore, is certainly much higher than the numbers human rights organisations or media have been able to access.
Iran Human Rights researchers have been able to verify 138 eye injury cases, 43 of whom have submitted evidence of their injuries on the condition of anonymity. The names and details of the other 95 are provided in this report.
8 children under 18 years of age, 4 girls and 4 boys, are amongst those blinded by security forces. The youngest is a 5-year-old girl named Benita Kiani Falavarjani who was shot in the right eye while playing on her grandfather's second floor balcony in Isfahan. Overall, 5% of eye injuries were children compared to 12% (68 children) killed.
While women constituted 9% of protester death numbers, they make up 28% of eye injury numbers. Of the at least 551 protester deaths verified by IHRNGO, 49 were women and 502 were men. However, of the 138 recorded eye injuries, 38 were women and 100 were men.
A comparative chart of protester deaths and eye injuries: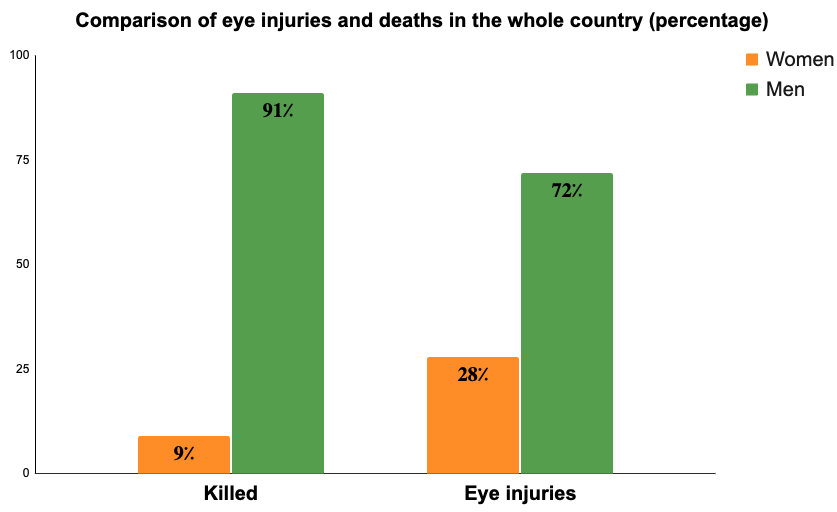 The ratio of women's eye injuries compared to all eye injuries is three times the number of women protesters killed to the total number of protesters deaths, indicating that repressive forces have chosen to intentionally target women's eyes instead of fatally shooting them.
In a smaller sample collected from Mahabad (West Azerbaijan province) by Iran Human Rights, the percentage of women with eye injuries (56%) is even higher than the men. 32 eye injuries have been recorded in Mahabad, with 18 being women and 14 men.
This is while only 15% of protesters killed in Mahabad were women. IHRNGO has recorded 13 protester deaths in the city, 11 men (85%) and two women (15%).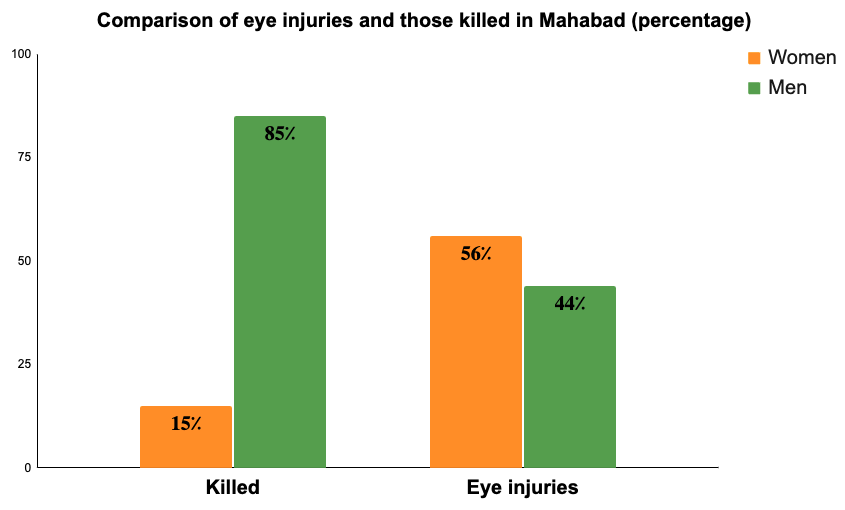 In this smaller sample, the ratio of women's eye injuries compared to all eye injuries is 3.7 times the number of women protesters killed to the total number of protester deaths, strengthening the hypothesis that state forces intentionally targeted women's eyes.
Data collected by IHRNGO demonstrate that repressive forces started shooting protesters in the eyes from the first days of protests (September 16) and continued on a nationwide scale until 21 November. Eye injuries sustained from direct shooting by security forces continued on a smaller scale throughout thereafter until the end of December.
The majority of eye injuries have been caused by pellets (metal and plastic) and resulted in the loss of eyesight in one eye and in some cases, both eyes. In nine of the cases, paintball guns were used to cause eye injuries and in five cases, teargas cartridges have struck the eyes directly. In one case, a sound bomb was thrown into a car and in another, a protester was blinded by brass knuckles used by a plainclothes agent.
In some cases, especially in smaller cities, injured individuals have managed to identify the assailants; Iran Human Rights will share this information to the UN Fact-Finding Mission.
Protesters being blinded was highlighted by human rights organisations and observers during the Isfahan protests in November 2021, and it seems to be a systematic government method for creating fear and causing damage without killing protesters.
The Isfahan farmers' protest which began on November 8 against the government's mismanagement of the water crisis and their demands being ignored were brutally and violently suppressed in Zayandeh Roud river's dry banks and next to the Khajou bridge on 26 November 2021. According to informed sources, around 40 people were blinded by security forces.
That was of course, not the first time protesters were blinded by state forces. Amongst them, 19-year-old Matin Hosni whose left eye was blinded in the November 2019 protests in Bukan but had stayed silent until recently due to pressure of threats and harassment from state agencies.
The names and details of 43 people who wished to remain anonymous have been excluded from the list below; Iran Human Rights has verified medical evidence of their injuries. The following 95 people are listed in chronological order of sustaining their injuries.
1. Kian Derakhshan
Injury: severe loss of vision in the right eye
Cause: pellet gun (100+ pellets)
Date of injury: 17 September 2022
Location: Saqqez
Age at the time of injury: 22
2. Mohammad Parsa Sehat (Hairdresser)
Injury: loss of sight in one eye and severe damage to the other
Cause: pellet gun
Date of injury: 17 September 2022
Location: Saqqez
Age at the time of injury: 22
3. Nachirvan Maroufi (Conscript army soldier on leave)
Injury: loss of sight in right eye
Cause: pellet gun (around 30 bullets)
Date of injury: 17 September 2022
Location: Saqqez
Age at the time of injury: 18
4. Massoud Rahimpour
Injury: loss of 80% of sight in right eye
Cause: pellet gun
Date of injury: 19 September 2022
Location: Saqqez
Age at the time of injury: 33
5. Elaheh Tavakolian (PhD student in Business Management)
Injury: right eye
Cause: pellet gun
Date of injury: 20 September 2022
Location: Mashhad
Age at the time of injury: 34
6. Nima Khoujmali
Injury: loss of sight in left eye
Cause: pellet gun
Date of injury: 20 September 2022
Location: Gonbad Kavous
Age at the time of injury: 20
7. Seyed Matin Manani (Computer Engineering student)
Injury: loss of sight in both eyes
Cause: pellet gun (pellets all over body)
Date of injury: 20 September 2022
Location: Sari
Age at the time of injury: 25
8. Yaser Alvandiani (Athlete and artist)
Injury: loss of sight in left eye
Cause: pellet gun (pellets all over body)
Date of injury: 20 September 2022
Location: Hamedan
Age at the time of injury: 34
9. Hossein Nouri Nikou (Hospital worker)
Injury: loss of sight in left eye
Cause: pellet gun
Date of injury: 20 September 2022
Location: Tehran (Valiasr)
Age at the time of injury: 25
10. Nemat Afshar
Injury: loss of sight in left eye
Cause: pellet gun
Date of injury: 20 September 2022
Location: Qazvin
Age at the time of injury: 36
11. Mehdi (Metty) Meighani
Injury: loss of sight in right eye
Cause: pellet gun
Date of injury: 20 September 2022
Location: Arak
Age at the time of injury: 19
12. Abbas Ali Maghboun (Carpenter)
Injury: loss of 60-70% sight in right eye
Cause: pellet gun
Date of injury: 20 September 2022
Location: Kish
Age at the time of injury: 49
13. Erfan Shakouri
Injury: loss of sight in right eye
Cause: tear gas cartridge fired directly at face
Date of injury: 21 September 2022
Location: Rezvanshahr (Gilan)
Age at the time of injury: 13
14. Hamid Parsa (Cameraman and photographer)
Injury: loss of sight in right eye and damage to left eye
Cause: pellet gun
Date of injury: 21 September 2022
Location: Tehran (Ariashahr)
Age at the time of injury:
15. Hossein Abedini (Model)
Injury: loss of sight in left eye
Cause: pellet gun
Date of injury: 21 September 2022
Location: Tehran
Age at the time of injury: 20
16. Ali Mohammadi
Injury: loss of sight in left eye
Cause: pellet gun
Date of injury: 21 September 2022
Location: Hamedan
Age at the time of injury: 22
17. Mohammad Vakili
Injury: loss of sight in right eye
Cause: pellet gun (100+ pellets)
Date of injury: 21 September 2022
Location: Hamedan
Age at the time of injury: 31
18. Ali Tahouneh
Injury: serious damage to both eyes (some sight restored after medical treatment)
Cause: pellet gun (pellets all over body)
Date of injury: 22 September 2022
Location: Karaj
Age at the time of injury: 34
19. Milad Safari
Injury: 80% loss of sight in left eye
Cause: pellet gun (2 pellets in eye and 5 in body)
Date of injury: 22 September 2022
Location: Mehrshahr, Karaj (Kermanshah native)
Age at the time of injury: 35
20. Hamed Ali Mohammadi (Marketing)
Injury: loss of sight in right eye
Cause: pellet gun (nearly 90 pellets in abdomen, chest, face and eye)
Date of injury: 22 September 2022
Location: Karaj (Fardis)
Age at the time of injury: 37
21. Hirsh Naghshbandi (Actor and theatre director)
Injury: loss of sight in left eye
Cause: pellet gun
Date of injury: 22 September 2022
Location: Sanandaj
Age at the time of injury:
22. Mohammad Farzi (Street performer and martial artist in judo and karate)
Injury: loss of 80% sight in right eye
Cause: pellet gun
Date of injury: 22 September 2022
Location: Tehran
Age at the time of injury: 32
23. Zara (Tattoo artist)
Injury: loss of sight in right eye
Cause: temple struck by tear gas cartridge
Date of injury: 22 September 2022
Location: Tehran (Nazi Abad)
Age at the time of injury: 18
24. Mojtaba Fadayi
Injury: loss of sight in left eye
Cause: pellet gun
Date of injury: 24 September 2022
Location: Junghan
Age at the time of injury:
25. Maryam Babayi
Injury: loss of sight in one eye
Cause: pellet gun
Date of injury: 24 September 2022
Location: Tehran
Age at the time of injury:
26. Amir Velayati (Hairdresser)
Injury: loss of sight in left eye
Cause: pellet gun
Date of injury: 24 September 2022
Location: Tehran (Narmak)
Age at the time of injury: 24
27. Saman Pouryaghma (Businessman)
Injury: loss of sight in left eye
Cause: paintball gun
Date of injury: Late September 2022
Location: Tehran (Vali Asr Square)
Age at the time of injury: 30
28. Mostafa
Injury: loss of sight in left eye
Cause: pellet gun (at least 50 pellets all over body)
Date of injury: Late September 2022
Location: A city in Chaharmahal and Bakhtiari province
Age at the time of injury: 31
29. Asal Jazideh
Injury: loss of sight in left eye and damage to right eye
Cause: pellet gun (20 pellets in face and body)
Date of injury: 1 October 2022
Location: outside University of Gilan – Faculty of Sciences in Rasht
(Lasht Nesha native)
Age at the time of injury: 17
30. Zoha Mousavi
Injury: loss of sight in left eye
Cause: pellet gun (hit on temple)
Date of injury: 2 October 2022
Location: Isfahan (Ahvaz native)
Age at the time of injury: 25
31. Ali Zare (Tehran bazar worker)
Injury: loss of sight in right eye
Cause: pellet gun
Date of injury: 7 October 2022
Location: Tehran
Age at the time of injury: 23
32. Ahmad Naeim Hirmandzad
Injury: loss of sight in left eye
Cause: struck with brass knuckles by plainclothes agent
Date of injury: 9 October 2022
Location: Hirmand in Sistan and Baluchistan province
Age at the time of injury: 59
33. Hossein Ashtari (Tattoo artist)
Injury: loss of sight in left eye
Cause: paintball gun
Date of injury: 9 October 2022
Location: Karaj (Gohardasht)
Age at the time of injury: 22
34. Bahman (conscript soldier on leave and athlete)
Injury: severe damage to right eye
Cause: pellet gun
Date of injury: 10 October 2022
Location: Mahabad
Age at the time of injury: 21
35. Ayoub Abdollahi
Injury: loss of sight in right eye
Cause: pellet gun
Date of injury: 11 October 2022
Location: Saqqez
Age at the time of injury: 23
36. Kowsar Eftekhari (theatre actress)
Injury: loss of sight in right eye
Cause: pellet gun
Date of injury: 12 October 2022
Location: Tehran (around Enghelab Square)
Age at the time of injury: 22
37. Parviz Javani (Yari)
Injury: loss of sight in left eye
Cause: pellet gun
Date of injury: 12 October 2022
Location: Mahdieh in Kermanshah
Age at the time of injury: 27
38. Vahed Rouznavard
Injury: loss of sight in left eye
Cause: pellet gun
Date of injury: 12 October 2022
Location: Mahabad
Age at the time of injury: 21
39. Kamal Pishvand
Injury: loss of sight in left eye
Cause: pellet gun
Date of injury: 12 October 2022
Location: Mahabad
Age at the time of injury: 41
40. Ahmad Pirhaghir
Injury: loss of sight in right eye
Cause: pellet gun
Date of injury: 12 October 2022
Location: Saqqez
Age at the time of injury: 26
41. Matin Chakav
Injury: loss of sight in right eye
Cause: pellet gun
Date of injury: 12 October 2022
Location: Abdanan
Age at the time of injury: 18
42. Younes Rigi
Injury: loss of sight in right eye
Cause: pellet gun
Date of injury: 14 October 2022
Location: near Maki Mosque in Zahedan
Age at the time of injury: 26
43. Mercede Shahinkar (Personal trainer)
Injury: loss of sight in right eye
Cause: paintball gun
Date of injury: 15 October 2022
Location: Tehran (Sattar Khan)
Age at the time of injury: 38
44. Ali Khaleghi
Injury: loss of sight in left eye
Cause: paintball gun
Date of injury: 15 October 2022
Location: Kerman
Age at the time of injury: 24
45. Sajad Rahmatipour (Software engineer working in car repairs due to unemployment)
Injury: loss of sight in left eye
Cause: pellet gun
Date of injury: 17 October 2022
Location: Abdanan
Age at the time of injury: 25
46. Iman
Injury: loss of sight in one eye and damage to nerve in other
Cause: pellet gun (at least 60 pellets)
Date of injury: Late October 2022
Location: city in Lorestan
Age at the time of injury: 34
47. Helia Babayi
Injury: loss of sight in right eye and damage to face
Cause: pellet gun
Date of injury: 26 October 2022 (40th day anniversary of Jina (Mahsa) Amini)
Location: Isfahan
Age at the time of injury: 16
48. Mohammadreza (Wrestler and worker)
Injury: loss of sight in right eye
Cause: pellet gun
Date of injury: 26 October 2022 (40th day anniversary of Jina (Mahsa) Amini)
Location: Zarin Shahr, Isfahan
Age at the time of injury: 30
49. Hamed Davoudi (Civil engineer)
Injury: loss of sight in right eye
Cause: pellet gun (20 bullets to body, one to eye)
Date of injury: 26 October 2022 (40th day anniversary of Jina (Mahsa) Amini)
Location: Shahin Shahr, Isfahan
Age at the time of injury: 30
50. Niloufar Aghayi (Lecturer and expert in Midwifery)
Injury: left eye
Cause: paintball gun
Date of injury: 26 October 2022 (40th day anniversary of Jina (Mahsa) Amini)
Location: Outside Tehran Medical Council
Age at the time of injury: 31
51. Kimia Zand
Injury: right eye
Cause: paintball gun
Date of injury: 26 October 2022 (40th day anniversary of Jina (Mahsa) Amini)
Location: Tehran
Age at the time of injury: 26
52. Hossein Shahi
Injury: loss of sight in right eye
Cause: paintball gun
Date of injury: 26 October 2022 (40th day anniversary of Jina (Mahsa) Amini)
Location: Tehran (Enghelab Square)
Age at the time of injury: 24
53. Sadegh Sufi (Personal trainer)
Injury: loss of sight in right eye (10% restored)
Cause: pellet gun
Date of injury: 26 October 2022 (40th day anniversary of Jina (Mahsa) Amini)
Location: Bukan
Age at the time of injury: 27
54. Arvin Salimi (Worker)
Injury: loss of sight in left eye
Cause: pellet gun
Date of injury: 27 October 2022 (40th day anniversary of Reza Lotfi)
Location: Dehgalan (Kurdistan)
Age at the time of injury: 22
55. Mohsen Kafshegar (Former IAPSRS member, gravestone carver)
Injury: loss of sight in left eye
Cause: pellet gun
Date of injury: 28 October 2022
Location: Amol
Age at the time of injury: 31
56. Kiarash Pour Rasoul (Mobile phone repairs and sales)
Injury: loss of sight in left eye
Cause: pellet gun
Date of injury: 29 October 2022
Location: Lasht Nesha (Gilan)
Age at the time of injury: 27
57. Zaniar Tondro
Injury: loss of sight in right eye
Cause: pellet gun
Date of injury: 31 October 2022
Location: Piranshahr
Age at the time of injury: 17
58. Majid Khademi Taher (PhD student in Isfahan and biotechnology researcher)
Injury: loss of sight in left eye
Cause: pellet gun
Date of injury: 3 November 2022 (40th day anniversary of Hadis Najafi)
Location: Karaj-Qazvin motorway, between Hesarak bridge and Baharestan entrance
Age at the time of injury:
59. Reza Ezati
Injury: loss of sight in right eye, damage to heart, lungs and left arm
Cause: pellet gun (26 pellets remain in body)
Date of injury: 3 November 2022 (40th day anniversary of Hadis Najafi)
Location: Karaj-Qazvin motorway, Behesht Sakineh Cemetery entrance
Age at the time of injury: 47
60. Hossein Naderbigi
Injury: loss of sight in both eyes (2 pellets in right eye and 3 in left eye)
Cause: pellet gun (pellets all over body)
Date of injury: 3 November 2022 (40th day anniversary of Hadis Najafi)
Location: Karaj-Qazvin motorway, near Behesht Sakineh Cemetery entrance
Age at the time of injury: 22
61. Sara
Injury: loss of sight in left eye
Cause: pellet gun (28 pellets to face and head)
Date of injury: 3 November 2022 (40th day anniversary of Hadis Najafi)
Location: Karaj-Qazvin motorway, Behesht Sakineh Cemetery
Age at the time of injury: 21
62. Ziba Mostafazadeh (Sales assistant)
Injury: loss of sight in left eye
Cause: pellet gun (around 30 pellets)
Date of injury: 3 November 2022
Location: Hashtgerd
Age at the time of injury: 35
63. Elham (Worked in business corporation)
Injury: loss of sight in left eye
Cause: pellet gun
Date of injury: 11 November 2022
Location: city in Hormozgan
Age at the time of injury: 35
64. Raheleh Amiri (Psychologist)
Injury: loss of sight in right eye
Cause: pellet gun
Date of injury: 15 November 2022
Location: Kerman
Age at the time of injury: 29
65. Hossein Bagherpour (Car mechanic)
Injury: loss of sight in right eye
Cause: paintball gun
Date of injury: 15 November 2022
Location: Kerman (Valfajr Street)
Age at the time of injury: 24
66. Behzad Hamrahi (Company worker)
Injury: loss of sight in left eye
Cause: paintball gun
Date of injury: 15 November 2022
Location: Tehran (Sadeghieh)
Age at the time of injury: 43
67. Sepehr Khaleghi
Injury: loss of sight in right eye
Cause: tear gas cartridge
Date of injury: 15 November 2022
Location: Tehran
Age at the time of injury: 28
68. Salar Vatankhah
Injury: loss of sight in right eye
Cause: pellet gun (20+ pellets in face and head)
Date of injury: 15 November 2022
Location: Karaj
Age at the time of injury: 23
69. Ali Delpasand Moghadam
Injury: loss of sight in right eye
Cause: pellet gun
Date of injury: 15 November 2022
Location: Rasht (Golsar)
Age at the time of injury: 43
70. Benita Kiani Falavarjani
Injury: loss of sight in right eye
Cause: pellet gun (at least 20 pellets to face)
Date of injury: 15 November 2022
Location: on grandfather's second floor balcony in Malekshahr, Isfahan
Age at the time of injury: 5
71. Behrouz Hosseini
Injury: loss of sight in left eye
Cause: pellet gun
Date of injury: 15 November 2022
Location: Fouladshahr, Isfahan
Age at the time of injury: 21
72. Vahid Abbasi Piani (Former footballer/currently facing death penalty charges in Ahvaz Sheiban Prison)
Injury: Damage to eye, possibility of loss of sight
Cause: pellet gun
Date of injury: 15 November 2022
Location: Izeh
Age at the time of injury: 28
73. Mohadaseh (Ghazal) Ranjkesh (Law student)
Injury: loss of sight in right eye
Cause: pellet gun
Date of injury: 15 November 2022
Location: Bandarabbas
Age at the time of injury: 21
74. Meisam Dehghani
Injury: loss of sight in right eye
Cause: pellet gun
Date of injury: 15 November 2022
Location: Bandarabbas
Age at the time of injury: 28
75. Erfan Ramizipour (Accountancy student)
Injury: loss of sight in right eye
Cause: pellet gun (25 pellets)
Date of injury: 15 November 2022
Location: Bandarabbas
Age at the time of injury: 19
76. Farid Rashidi (Hairdresser)
Injury: loss of sight in left eye
Cause: pellet gun (at least 15 pellets left in body)
Date of injury: 15 November 2022
Location: Bandarabbas
Age at the time of injury: 30
77. Nazanin
Injury: loss of sight in left eye
Cause: pellet gun (11 pellets)
Date of injury: 15 November 2022
Location: Bandarabbas
Age at the time of injury: 16
78. Soheil (Café owner)
Injury: damage to both eyes
Cause: pellet gun (pellets all over body)
Date of injury: 15 November 2022
Location: Shiraz
Age at the time of injury: 29
79. Mostafa Motalebi
Injury: loss of sight in left eye, damage to neck and shoulder
Cause: pellet gun (17 pellets)
Date of injury: 15 November 2022
Location: Tehran (Shad Abad)
Age at the time of injury: 34
80. Hamidreza Panahi
Injury: loss of sight in left eye
Cause: pellet gun
Date of injury: 15 November 2022
Location: Tehran (Shad Abad)
Age at the time of injury: 27
81. Karu Feizi (Football player)
Injury: loss of sight in both eyes
Cause: pellet gun (pellets all over body)
Date of injury: 15 November 2022 (Funeral of Mohammad Hassanzadeh)
Location: Bukan
Age at the time of injury: 20
82. Farideh Salavatipour
Injury: loss of sight in both eyes
Cause: pellet gun
Date of injury: 16 November 2022
Location: Sanandaj
Age at the time of injury: around 40
83. Artin Ahmadi (Artist and tattoo artist)
Injury: loss of sight in left eye
Cause: pellet gun (dozens)
Date of injury: 17 November 2022 (40th day anniversary of several Sanandaj slain protesters)
Location: Sanandaj
Age at the time of injury: 18
84. Hossein Hosseinpour
Injury: loss of sight in right eye
Cause: pellet gun
Date of injury: 17 November 2022
Location: Mahabad
Age at the time of injury: 25
85. Ali Mohammad Rezaei
Injury: loss of sight in left eye
Cause: pellet gun
Date of injury: 18 November 2022
Location: outside his house in Abdanan
Age at the time of injury: 60
86. Saman Hemati
Injury: loss of sight in right eye
Cause: pellet gun
Date of injury: 18 November 2022
Location: Abdanan
Age at the time of injury: 22
87. Seyed Mohammad Hosseini Payiz (Editor and filmmaking and editing teacher)
Injury: loss of sight in right eye
Cause: pellet gun
Date of injury: 18 November 2022
Location: on his balcony on fourth floor
Age at the time of injury:
88. Mohammad Safiari (Delivery driver)
Injury: loss of sight in right eye and serious damage to left eye
Cause: pellet gun
Date of injury: 19 November 2022
Location: Tehran (Jomhouri Street)
Age at the time of injury:
89. Shahin Milan (Interior decoration)
Injury: loss of sight in left eye
Cause: pellet gun (at least 40 pellets)
Date of injury: 19 November 2022
Location: Khouy
Age at the time of injury: 22
90. Parsa Ghobadi
Injury: loss of sight in both eyes
Cause: pellet gun (pellets in eyes and body)
Date of injury: 21 November 2022 (Iran-England World Cup game)
Location: Kermanshah
Age at the time of injury: 18
91. Mastaneh Nazi
Injury: loss of sight in left eye
Cause: pellet gun (30 pellets)
Date of injury: Aban (23 Oct-21 Nov 2022)
Location: Piranshahr
Age at the time of injury: 23
92. Firouz Mirani (Artist)
Injury: loss of sight in right eye and limited sight in left eye
Cause: pellet gun (30 pellets)
Date of injury: 29 November 2022 (Iran-USA World Cup game)
Location: Paveh
Age at the time of injury: 29
93. Kowsar (Mahbanou) Khoshnoudi-Kia (Iran champion archer)
Injury: loss of sight in left eye
Cause: pellet gun
Date of injury: 9 December 2022
Location: Kermanshah
Age at the time of injury: 27
94. Danial (Retired bus driver and workers' rights activist)
Injury: serious damage to left eye and fingers on right hand
Cause: car window broken and a sound bomb thrown inside
Date of injury: Azar (22 Nov-21 Dec 2022)
Location: waiting behind red lights in Tehran traffic
Age at the time of injury: 48
95. Mani Haji Hassan
Injury: loss of most sight in right eye
Cause: tear gas cartridge
Date of injury: 29 December 2022
Location: Tehran
Age at the time of injury: 16