Iran Human Rights – Behnam Mahjoubi's mother says despite three months passing, the forensic medical examiner is not responding to requests for an investigation to establish the cause of her son's death after being transferred to hospital from Evin Prison.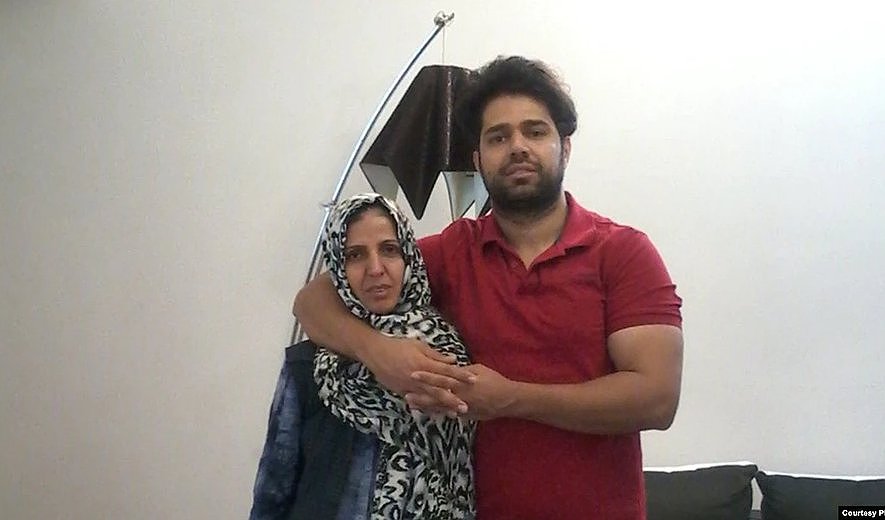 Iran Human Rights calls on the international community to pay attention and follow up on the case of Behnam Mahjoubi. "Behnam Mahjoubi's family and all the other families seeking justice for their children are asking for the truth and for the perpetrators to be held accountable to prevent similar crimes repeating. The international community and human rights organisations must support these families' demands," said Mahmood Amiry-Moghaddam, IHR director.
According to Behnam's mother, Batool Hosseini, the forensic medical examiner has not responded to her requests for an investigation into her son's death. In a tweet on Friday, she called on the international community, activists and citizens to support her call for justice until the cause of her son's death is established.
Speaking to Iran Human Rights, she said: "He was fine at 8.30pm the night before their phones were cut off. But I don't know what happened at 4am when they took him to the hospital and then said he was in ICU and on a (life support) machine. When he was taken from me and martyred, I told them that he must be taken to the forensic medical examiner to establish how a healthy child taken to prison ended up on a life support machine. They told me he had been taken to the medical examiner, but now they won't respond to me or any letters."
Iran Human Rights continues to hold the leaders of the Islamic Republic of Iran directly responsible for Behnam Mahjoubi's death.
"Ebrahim Raisi, the head of the judiciary and Ali Khamenei, Iran's Supreme Leader are responsible for the detention, harassment and death of political prisoners, including Behnam Mahjoubi, and must be held accountable. Depriving prisoners of their right to medical care amounts to torture and the international community must pay more serious attention to reports of torture and deaths in custody in Iran," IHR's director Mahmood Amiry-Moghaddam previously said.
Behnam Mahjoubi was a Gonabadi sufi dervish who was arrested by security forces in relation to the Gonabadi dervishes' protest in Golestan Haftom, Tehran, in February 2018. He was sentenced to two years in prison and a two year ban from membership in political and social parties and groups on charges of "assembly and collusion against national security by communication with others and organising an illegal gathering." He was arrested on 20 June 2020, after appearing at the Judgment Enforcement Unit of Evin's court, and transferred to Evin Prison to serve his sentence despite having submitted a letter from his doctor certifying him unfit to serve his sentence four days prior.
Behnam suffered from panic disorder and relied on his medication to stop the panic attacks that led to his seizures. At the time, his wife, Saleheh Hosseini and Behnam himself, warned that he did not have regular access to his medication. His doctor wrote another letter in September prescribing his medication and again asserting that he was unfit to serve his sentence. His family were also warned by the doctor that he should not be mixing medications and that using any other medications would lead to drug poisoning. Contrary to the doctor's advice, he was transferred to a mental health unit a month later, where he later testified in recordings, that he had been subjected to torture
Behnam Mahjoubi was transferred from Evin Prison to Loghman Hospital due to drug poisoning on February 13. His relatives confirmed that he passed away in Loghman Hospital on February 21. He was laid to rest in Hojat Abad village in Kerman on February 22.