Shabtabnews – The mother of a murdered Basiji demands the retrial and execution of Hamid Gharehassanlou.
In a recent appearance on the Iranian national TV the mother of murdered Basiji (Ajamian) stated that she has been victim of foul play as the result of the political influence of Sufis within the Iranian court system. In her TV appearance she demanded retrial and execution of Mr Gharehassanlou for the murder of her Basiji son, Ajamian.
Hamid Gharehassanlou and his wife who are member of the Sufi Gonabadi Order, were arrested in Karaj on 4 November 2022 at their home after they had participated in the 40th day commemoration of the murder of Hadis Najafi. Najafi had been killed by security forces while protesting the death of Mahsa Amini.
Hamid Gharehassanlou was reportedly beaten during his arrest. Authorities falsely accused the Gharehassanlous of being involved in the killing of a member of a state-backed paramilitary force. During interrogations, Hamid was reportedly tortured into confessing. Farzaneh was also reportedly tortured into making incriminating claims about Hamid.
Observers, friends and family members have stated that even though neither Gharehassanlou participated in the killing, the judiciary has used the case as a means of discouraging doctors and other professionals from taking part in the protest movement. Doctors treating protesters have been targeted by police, according to British Medical Journal report.
In early December 2022, it was learned that a court in Karaj, Alborz province, sentenced Farzaneh Gharehassanlou to 25 years of exile imprisonment for "spreading corruption on earth through committing crimes against national security." According to a family member, authorities reportedly threatened the Gharehassanlous' lawyers until they were forced to accept a public defender, who allegedly worked to convict them.
In February 2023, it was reported that Gharehassanlou's health had deteriorated and that authorities at Karaj Central Penitentiary had refused to provide him adequate medical care and transfer him to a hospital for treatment. Gharehassanlou reportedly suffers from heart disease and digestive issues.
In April 2023, the court in Karaj sentenced Farzaneh Gharehassanlou to 5 years and Hamid Gharehassanlou to 15 years in prison, and that prison authorities have not provided medical treatment despite his "worrying physical conditions."
In an audio recording released on 24th August 2023, Mr Gharehassanlou once again reiterated his innocence in regards to murder charges he is facing. While stating that he had only approached the Basiji member in order to stop the mob attacking him and to attend to his injuries as a physician, and part of his duties under the Hippocratic Oath
Furthermore, Mr Gharehassanlou on 12th October 2023 recorded another telephone message from prison for her daughter's birthday, as result of which his phone card was confiscated. According to reports received other prisoners have also been warned that if they help Mr. Gharehassanlou to contact his family through other means, they will face severe treatment from the prison authorities.
The state of Gonabadi Sufis under the current Iranian regime remains perilous as another member of this Gonabadi Sufi order, Arash Moradi, on the 17th of October, was arrested by the security forces at his workplace in Kashan. At the time of his arrest, the security forces also seized some of his personal belongings, including his laptop and mobile phone.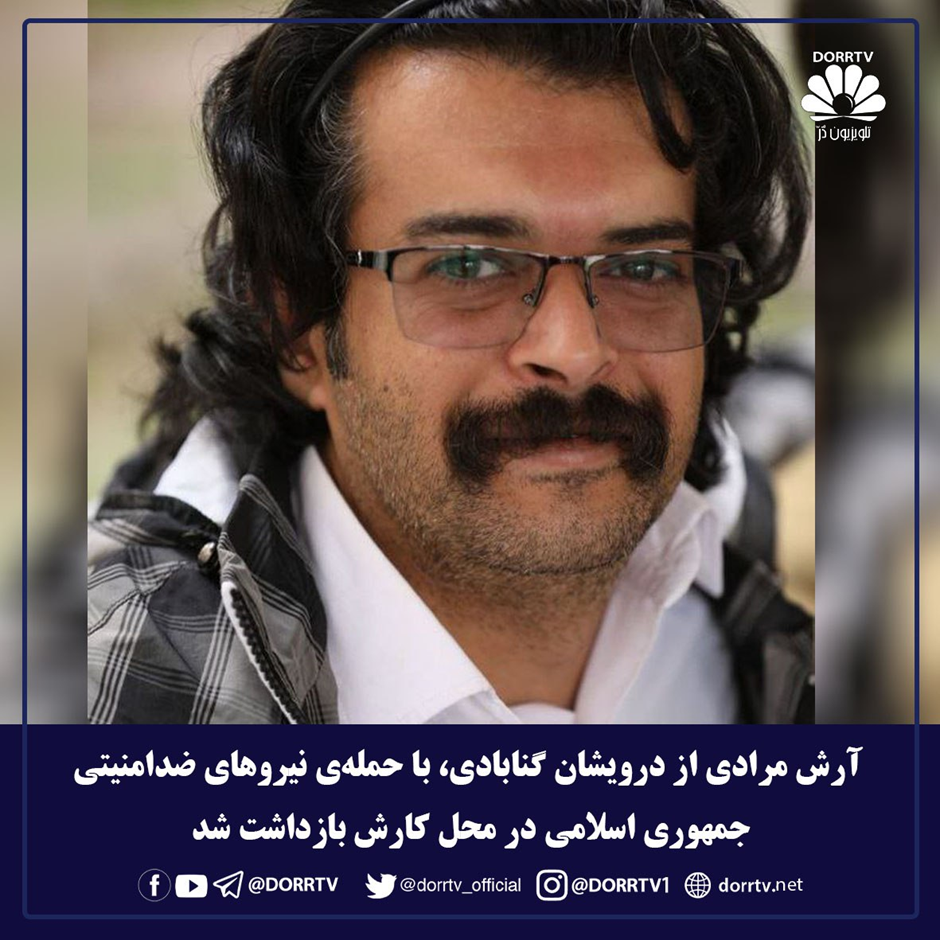 According to the information received Arash Moradi after his arrest was taken to an unknown place.
Arash Moradi is a follower of Dr. Noor Ali Tabandeh the former leader of Gonabadi Sufis, who was murdered in 2019. Mr Moradi was previously arrested and sentenced to one year imprisonment after being severely beaten by Iranian security forces, during the incident of "Golestan 7th" on March 2018. Mr Moradi was subsequently released after the completion of his sentence,
A person close to Mr. Moradi's family stated that since his recent arrest: "Mr. Moradi has made two phone calls to his family without indicating his whereabouts. Also, his case is being investigated by the third investigation branch of Evin Prosecutor's Office."
Related news links to the case of Mr and Mrs Gharehassanlou:
https://www.amnesty.org.uk/urgent-actions/14-people-sentenced-death-relation-protests
https://www.uscirf.gov/religious-prisoners-conscience/forb-victims-database/hamid-gharehassanlou
https://www.washingtonpost.com/world/2022/12/24/iran-protests-doctors-hassanlou-executions/