Reports of increasing coronavirus cases outside China are emerging and its global spread is now a reality that has to be dealt with worldwide. As the number of incident cases seems to be stabilizing in China, increasing reports have pointed out that new cases are increasing in other parts of the world; South Korea, Iran and Italy.
Meanwhile, Iraj Harirchi, the Iranian Deputy Health Minister, declared (while sweating profusely at the press conference) that the Iranian authorities were having the outbreak under control. The following day he tested positive for the coronavirus (COVID-19). At least another two top officials and two members of Iran's parliament have contracted the disease.
WHO Director General Tedros Adhanom Ghebreyesus expressed concern about the situation in the Islamic Republic of Iran. Outside of China, Iran has the highest reported number of deaths from the virus, China's reported mortality rate is 3.5 percent, Iran's mortality rate is 11 percent.
The outbreak in Iran has been focused mainly in Qom, a city south of the capital Tehran. Qom is a holy city and site of pilgrimage, creating complex spreading patterns. Over the last few days the outbreak has reached four other cities, including Tehran. Iranian officials have confirmed 245 cases of the virus and 26 deaths, however many suspect a cover up of the real extent of the outbreak, as the world has witnessed before. Nearby countries Afghanistan, Kuwait, Bahrain, Lebanon, Oman, United Arab Emirates and Iraq are reporting new cases originated from Iran. Experts are now concerned that Iran will be the gateway for spreading the virus all across the Middle East.
"It is a recipe for a massive viral outbreak," said Peter Piot, director of the London School of Hygiene and Tropical Medicine and the former founding executive director of the Joint United Nations Program on H.I.V./AIDS."
Amidst these reports we are reminded of Dr Ahmadreza Djalali, an Iranian-Swedish specialist in disaster medicine, currently being held in Evin prison and sentenced to death.
He is an internationally renowned expert in the field of emergency medicine and his expertise and knowledge could contribute a great deal to the Iranian public health system at this point in time. Dr Djalali carried out a PhD at Karolinska Institute (KI), and successfully completed a postdoc at CRIMEDIM in Italy, an international center for research and education in emergency and disaster medicine.
He has cooperated with research groups worldwide and held lectures and educational workshops in numerous universities.
It was for circumstances like these that Ahmadreza Djalali worked tirelessly and always pointed out, according to his wife, that he wanted to take the knowledge he had obtained back to his own country. He was grateful to his background and country and hopeful that the health care system in Iran could improve in the future. This is also why he often traveled to Iran, giving lectures at universities, but in 2016 it all came to an end.
In April 2016 he was officially invited to Iran to join a scientific conference in disaster medicine as a lecturer and also to participate in a follow up workshop at the University of Tehran and Shiraz University. He was arrested and accused of espionage and sentenced to death. The death sentence has since then been upheld, however Dr Djalali's own health has significantly deteriorated and since he has not been allowed specialist medical attention he is in fact serving a death sentence. Numerous scientists including Nobel laureates, physicians, academics and international organizations have appealed for his release.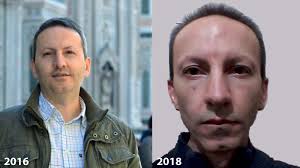 Ahmadreza Djalali has been held imprisoned in Evin since 2016 without a fair trial. His family, including his two children have not seen him these last 4 years, his youngest child was 4 years old last he saw him.
Dr Djalali set out to engage in scientific work, to deal with complex medical challenges associated with disasters such as the situation today in Iran. His current situation prevents him from contributing with knowledge and expertise in the area of disaster medicine in which Iran has a lot to learn. However instead of that Dr Djalali finds himself imprisoned in a prison that now may in fact be affected by the coronavirus.  
https://www.theguardian.com/news/2020/feb/29/nazanin-zaghari-ratcliffe-family-believe-she-has-coronavirus