Iran Human Rights (IHR) – 300 days after their arrests, Ali Younesi and Amirhossein Moradi, two elite Sharif University students, continue to be held in Evin Prison's Ward 209 without being charged or access to a lawyer. A letter from the Islamic Republic's Ambassador to the United Nations (UN) shows how he attempted to cover-up breaches of their human rights by making false allegations against them.
Ali Younesi, a computer engineering student at Sharif University of Technology, and Amir Hossein Moradi, a physics student at the university, were arrested without a legal summons on 10 April 2020 and have since been held in the Ministry of Intelligence's (MOIS) Ward 209 in Evin Prison.
On 5 August 2020, a group of UN human rights experts wrote a letter to the Islamic Republic's Ambassador to the UN urging him to "take all necessary measures to guarantee the right of Mr Younesi not to be deprived of his liberty, to protection from any act of torture and ill-treatment and to fair trial proceedings."
In the letter they express concern about the absence of due process and continued detention without charges, his prolonged solitary confinement of 59 days, lack of access to a lawyer of his own choosing, restricted telephone access and visits with his family as well as the possible risk of torture or other ill-treatment in detention. They also express concern that Ali had contracted COVID-19 after being put in a small cell with eight or nine other detainees.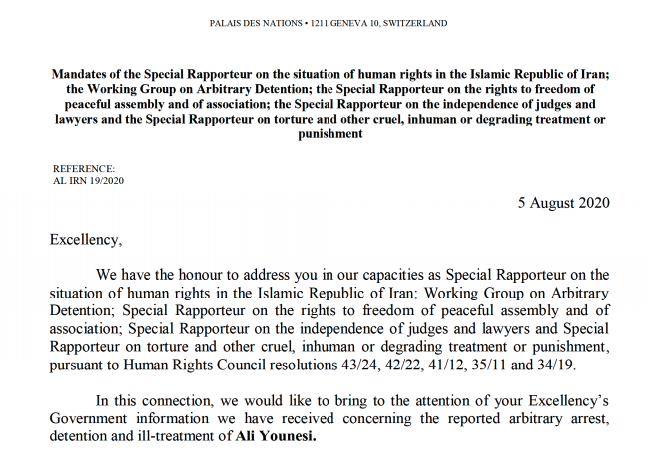 The letter was signed by Javaid Rehman, the Special Rapporteur on the situation of human rights in the Islamic Republic of Iran, Elina Steinerte, Vice-Chair of the working group on arbitrary detention, Celement Nyaletsossi Voule, Special Rapporteur on the rights to freedom of peaceful assembly and of association, Diego Garcia-Sayan, Special Rapporteur on the independence of judges and lawyers and Nils Melzer, Special Rapporteur on torture and other cruel, inhuman or degrading treatment or punishment.
Almost three months later, the Ambassador writes back on 29 October 2020 making false accusations against Ali in order to deny and detract from the facts and evidence presented.
Ali's brother, Reza Younesi, who published the cover page of the Ambassador's letter on Twitter, called the accusations against his brother "complete lies."
سیصد روز در بند ۲۰۹
از #علی_یونسی و #امیرحسین_مرادی چه میخواهید؟

۱- نماینده جمهوری اسلامی در سازمان ملل متحد در تاریخ ۲۹ اکتبر ۲۰۲۰ در جواب به دفتر حقوق بشر سازمان ملل در مورد اعتراض به وضعیت علی، نامه‌ای سراسر دروغ نوشته و مدعی شده علی از بند ۲۰۹ به بند عمومی منتقل شده است.🧵 pic.twitter.com/UOSUZkoM19— Reza Younesi رضا يونسى (@RezaYounesi) February 4, 2021
He stated that despite claims made by the Ambassador that his brother had been transferred to the general ward, Ali is still being held in Ward 209 of Evin Prison almost ten months after his arrest.
Referring to the torture Ali has been subjected to in detention, Reza wrote: "Last July, during his public interrogation session at the Palace of Justice, which was aimed at forcing a confession in front of student representatives, it was revealed that Ali's eye had been bleeding for 60 (sixty) days after his arrest (due to being beaten by MOIS agents) and he was not sent to the infirmary. Even the MOIS interrogator who was present at the meeting, confirmed and justified Ali and Amirhossein's beatings but the Islamic Republic's representative denies any ill-treatment in his letter."
He further calls the ambassador's assertion that Ali and Amirhossein were interrogated in the presence of their lawyer a "lie" and wrote: "For months, their chosen lawyers have been passed around between the court, Evin, MOIS and the judiciary and they still do not have access to the case."
Ali Younesi and Amirhossein Moradi's current situation in Ward 209
While Ali and Amirhossein's interrogation phase appears to have ended, the two elite students are still awaiting charges and trial, denied access to the lawyer of their choice and being held in the most unsanitary and harmful conditions in Ward 209 of Evin Prison.
Sources informed of the students' situation in prison have told IHR that Ali and Amirhossein are denied basic access to open air and phone calls.
An informed source said: "They are held in (Ward) 209 which is a security ward. Unlike the general ward, they are only permitted open air access two to three days a week. Also, they are only permitted to make one phone call per week to outside prison. Family visits are only permitted once every fortnight."
Speaking about the conditions of the ward, the source said: "There is almost no heating in the ward and the detainees are forced to endure the freezing cold in the winter. Ward 209 also has no access to the commissary or kitchen which they do in the general ward and the two boys are forced to eat the poor quality prison food they are given."
According to the source, Amirhossein and Ali are permitted to buy limited items from outside prison with their own money once a week with prior consent from prison officials.
After almost two months of solitary confinement, the two students were transferred to shared cells on 8 June 2020.
Describing their current condition, an informed source said: "Ali and Amirhossein are held in small cells that were designed to be solitary cells but due to the high number of detainees, there are currently four to five people held in each cell."
According to the informed source, the two imprisoned students remain at risk of contracting COVID-19 due to the insufficient monitoring of new arrivals to the ward.