Human Rights Activists News Agency (HRANA) – From the walls of Evin Prison, detained civil rights activist Atena Daemi has written a letter in response to the executions of Ramin Hossein Panahi, Loghman Moradi, and Zanyar Moradi, three Iranian Kurdish political prisoners who were hanged to death in secret on Saturday, September 8th.
The executions of the Moradis and Panahi drew outrcry from human rights institutions internationally. The attorneys representing them called their convictions and executions — the latter which took place without the mandatory notice to, or presence of, their lawyers — legally ambiguous under both Iranian and international law. Caught unawares, none of the families were present during their sons' final moments, as the executions were carried out at an undisclosed location in Tehran. The Ministry of Intelligence has since issued detention threats to the family members of the deceased men.
Condemning Iranian authorities for their treatment of the three men, and extending her condolences to their families, Atena Daemi's letter joins the many voices of outrage over the course of the young mens' fate. Daemi, imprisoned since 2014, is serving a seven-year sentence for "propaganda against the regime," "assembly and collusion to act against national security," and "insulting the supreme leader [Ayatollah Khamenei] as well as the founder of the Islamic Republic, Ayatollah Khomeini."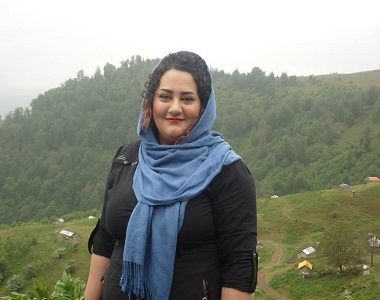 The text of Atena Daemi's eulogy, translated into English by HRANA, is below:
They killed our loved ones, and claim with pride that in doing so they have administered justice.
The "justice" they refer to is not the one represented by Lady Justice holding a fair and balanced scale. It is instead a man — a man with a turban on his head [a cleric], whose forehead bears the mark of the clay which grazes his head during prayers. He is blindfolded, not as a sign of impartiality, but of blindness to the truth. In one hand is a rosary. In the other, a scale suspended by a noose.
These scales are so unbalanced that one tray is a speck in the heavens, while the other is laden with dead bodies dragging it deep into the ground. This "justice" they invoke has been neither seen nor heard in *40 years.
In this troubled time – a time of economic turbulence, poverty, and unemployment – what problem was solved by murdering these three beloved men? Has their killing soothed any of the ailments suffered by the Iranian people?
Your majesties– where is this mania taking you? By deceit and without warning, you led our loved ones to the killing fields. Even in the short lives granted them, you wouldn't offer them peace. While they were still **hungry and thirsty, you cut their lives short. How it must have incensed you to your core to never see them falter. As you, dry-eyed, pitied them in their walk to the gallows to die for the ideals, their heads were held high, their steps steady…
How insolently you watch our loved ones draw their last breaths! It must burn you to hold them hostage from their families and brand them as terrorists, only to see them rise as steadfast symbols of democracy for the rest of us. For nine years, they showed friendship to inmates of different creeds and beliefs; they were endeared to their fellow prisoners, loved by us, and cherished by the Iranian people.
Before the start of religious months of Moharram and Safar(1) each year, you prepare yourself for mourning with a savage display. Drunk and armed with handguns, you launch into a monologue about Imam Hussein, who, lips dry from thirst, was beheaded by Yazid. What a repugnant contradiction–what abhorrent hypocrisy! You mirror Yazid's troops, and for the past 40 years, you have tightened ropes around resolute throats, pulled the stool from beneath the feet of persistent and patient youth. You instigate sectarian war between Sunni and Shiites. Then, your pockets brimming with billions, you pretend to be mourning Hussain.
I am sure that you know your savage acts only dig you deeper into public contempt. Your path is one of self-annihilation. Today, you only dug your graves deeper. You did not kill Zanyar, Loghman, and Ramin. You have only endeared them in our hearts, inspiring the world into mourning the true martyrs of our time.
You have tarnished Iran's standing and dignity in the world. They see us as a terrorist country for the cutthroat, blood-thirsty, and rapacious actions of a select and powerful few. How long and how far will you continue on this road? Dream on about imposing war on your people: they will rise to the challenge again and again. Stop your killing machine. Lift your lead boots from the throats of Iran and Kurdistan.
How tightly you cling to your towering throne, oblivious to the fact that you could tumble from your high horses at any moment to the miry earth below. Throughout history, many who rode high thought of themselves as invincible, only to take refuge in sewage tunnels, where they were tracked down and punished for their crimes.
Iran is a pile of live embers cloaked in a thin layer of ash. Lest your actions arouse the flames that lie beneath.
We congratulate the steadfast families of these martyrs.
Atena Daemi – Evin Prison Women Ward
September 8th, 2018
(1) Months in the Islamic lunar calendar commemorated by Shiite Muslims in mourning of Imam Hussein, the 3rd Shiite Imam, who was killed in battle against Yazid (Imam Hussain has come to symbolize the force of Good while Yazid stands for Evil).
* The Islamic Republic of Iran was founded after the Iranian Revolution approximately 40 years ago
** Zanyar and Loghman Moradi and Ramin Hossein Panahi were all reportedly on hunger strike before they were executed.