RFL/RE – Students at Tehran University say they were beaten back by security forces as they tried to hold a protest as President Ebrahim Raisi arrived to deliver a speech amid anti-government unrest that has rocked the country since the September death of a young woman while in police custody for allegedly wearing a head scarf improperly.
The Students' Union Council Telegram channel on December 7 said several students were injured and left bloodied by the attacking security forces.

Each year on December 7, which is Student Day in Iran, demonstrations are organized by many universities at which students put forward democratic demands.
WATCH: General strikes have been held for a third day in Iran, with shops and factories closed across the country. Meanwhile, students at Tehran University said they were beaten by security forces ahead of a speech on campus by Iranian President Ebrahim Raisi.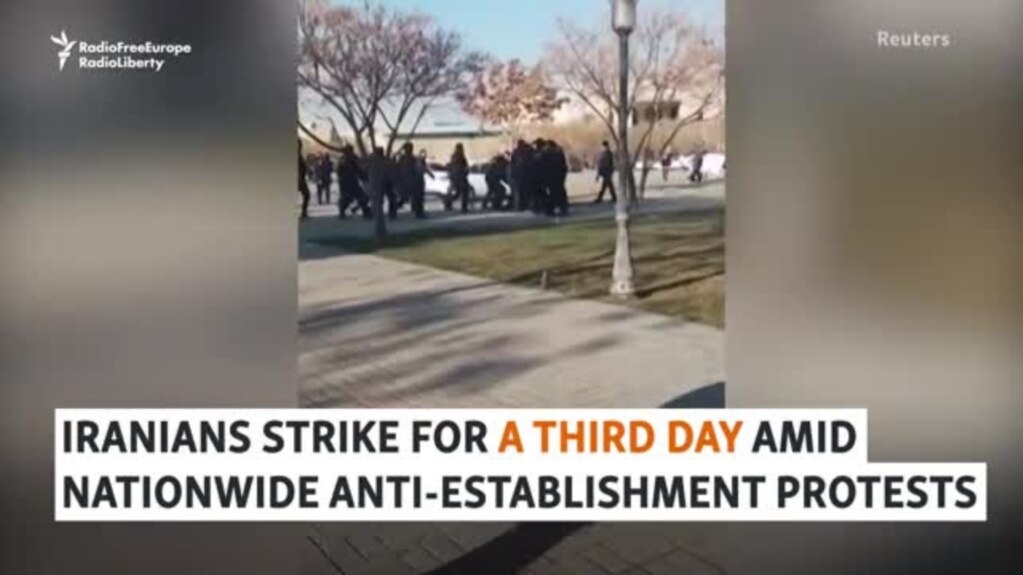 Besides such issues as academic rights, freedom of speech, and academic independence from the government, the demands also often reflect broader democratic movements in Iran, including this year's protest movement that has built up across the country since Mahsa Amini died in Tehran on September 16.
Students have been one of the main forces behind the unrest, which has been met by security officials with a brutal, and often deadly, crackdown.
Raisi, an ultra-conservative leader, arrived at the school and in a speech held in front of a selected group of pro-government students said that "protest is different from rioting" and that it was rioters who were "unjustly killing our loved ones."

While Raisi spoke, many students gathered in different parts of the university and chanted slogans against the government, as well as the slogan "Women, Life, Freedom."

Reports from other universities, including AmirKabir University in Tehran, and other universities in Mashhad said students were severely beaten there as well.

An eyewitness from Ferdowsi University in Mashhad said that a gathering of students there was "attacked" by security forces.

Meanwhile, nationwide strikes at businesses and shops continued for a third day.

Videos received by RFERL's Radio Farda showed shopkeepers in Isfahan, Bukan, and Tehran on strike in support of the protests.
#اعتصاب در بازار پوشاک تهران؛ بسیاری از شهرهای ایران برای روز سوم صحنه اعتصاب‌های فراگیر هستند. اعتراض‌های سراسری بعد از کشته شدن #مهسا_امینی دوازدهمین هفته را سپری می‌کند. pic.twitter.com/pq33afmrKV— RadioFarda‌|‌راديو فردا (@RadioFarda_) December 7, 2022

The government has responded to almost three months of unrest with deadly force as it tries to suppress one of the deepest challenges to the Islamic regime since the revolution in 1979.

The activist HRANA news agency said that, as of November 29, at least 459 protesters had been killed during the unrest, including 64 minors.
Written by Ardeshir Tayebi based on an original story in Persian by RFE/RL's Radio Farda