Radiofarda – Iranian Quds Force Chief Commander Major General Qassem Soleimani has been on the receiving end of both comments by Israel and a critical letter by former Iranian President Mahmud Ahmadinejad.
In a letter, Ahmadinejad accused Soleimani of acting as a go-between in favor of the brother of Iranian Vice President Eshaq Jahangiri, recommending that the authorities release him.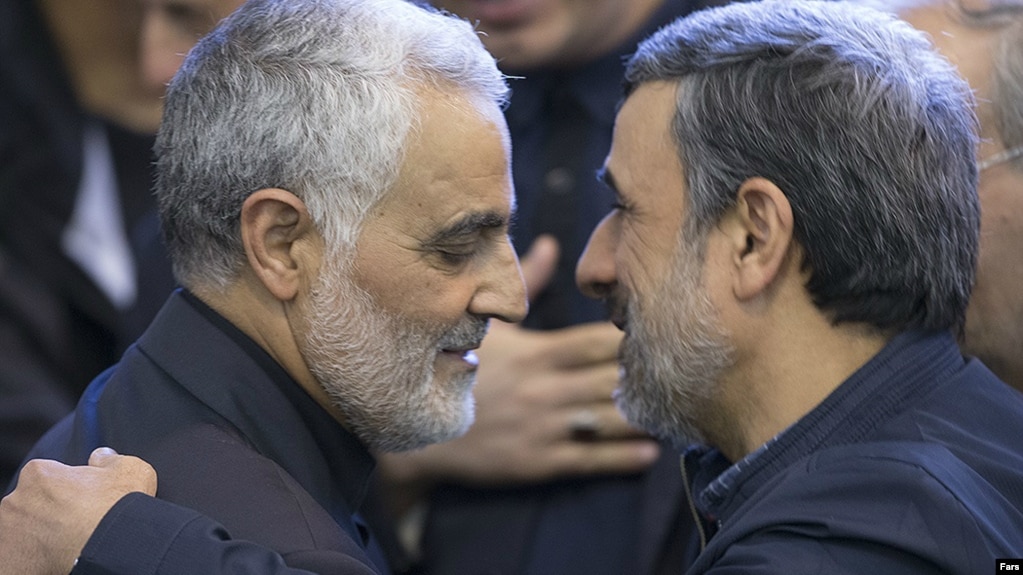 Ahmadinejad is referring to Mehdi Jahangiri, vice president of the Iranian Chamber of Commerce, chairman of the Tourism Finance Department, and one of the founders of Tourism Bank.
Mehdi Jahangiri was charged with financial corruption and arrested in October 2017 in the city of Kerman.
"The arrest was predictable," Eshaq Jahangiri wrote on Instagram. "I do not have precise information on the reason or manner of the arrest."
Eshaq Jahangiri maintained in his October 6, 2017, post, "I hope my brother's arrest is not political abuse and that justice, the fight against corruption, and the rule of law apply the same to everyone."
Mehdi Jahangiri defended his economic activity at the time as "clean" and "beneficial to the country," but the chief commander of the Islamic Revolutionary Guards Corps Sarallah forces, who was responsible for the arrest, called him a "source of corruption."
During the last presidential election, in May 2017, a number of ultraconservative heavyweights accused Mehdi Jahangiri of lobbying.
In his latest letter, Ahmadinejad revived the case, accusing Soleimani of interfering in the process of law in favor of the vice president's brother.
"It is said that you have interfered in the case of the vice president's brother, and, by recommendations to related authorities, paved the way for his release," Ahmadinejad wrote.
Without mentioning his sources, Ahmadinejad blamed Soleimani for applying favoritism in Jahangiri's case but setting the scene for the arrest of a former deputy president in executive matters, Hamid Baghaei.
"By wrongly accusing Baghaei (Ahmadinejad's deputy) of receiving some money from you, our faithful, revolutionary, and servant brother suffered a great injustice," Ahmadinejad wrote.
"Time and again," he continued, "we called you to step forward and testify about your allegations against Baghaei, but you never relented and left our numerous correspondence unanswered."
Soleimani had implicated Baghaei, who is currently behind bars, in a case which led to accusation of pocketing millions of dollars intended to be distributed among African leaders during the 16th Summit of the Non-Aligned Movement countries in 2012 in Tehran.
Based on the Court of Appeals verdict published on March 17, 2018, Baghaei received 3,766,000 euros and $590,000 from the Islamic Revolutionary Guards Corps (IRGC) to be distributed among heads of African countries attending NAM summit.
IRGC commanders said the money was paid to Baghaei in cash, a day after President Hassan Rouhani's inauguration ceremony.
Ahmadinejad and former officials of his administration have repeatedly dismissed the claims as "imaginary" and "unfounded."
"Even if the accusation against Baghaei were true, one might ask, 'Am I responsible or is Soleimani (for the vanished millions of euros and dollars)?" Ahmadinejad asked.
In his latest letter, he said, "The media say that you have made sacrifices and are fighting against injustice in Syria and other places, yet one might ask why you have kept mum against such great injustice in your own country."
Baghaei is currently serving his 15-year sentence. He has also been ordered to return more than $1 million to the treasury.
Ahmadinejad's letter coincides with Israeli IDF Chief's comments about Suleimani, who heads the IRGC's extraterritorial operations.
In a recent interview with The New York Times ahead of his retirement, Israel Defense Forces Chief of Staff Gadi Eizenkot said, Soleimani had mobilized 3,000 of his men in Syria, along with 8,000 Hezbollah fighters and another 11,000 foreign Shi'ite troops to fight n Syria.
By January 2017, Eizenkot said, he received unanimous permission from the security cabinet to step up strikes in Syria to near daily occurrences. In 2018 alone, he said, Israel dropped 2,000 bombs on Iranian targets.
Suleimani attempted to retaliate to the ramped-up Israeli campaign by launching 30 rockets at northern Israel last May, but Eizenkot said not a single one reached its target, the Times of Israel reported on January 13.
Meanwhile, prominent hardline commentator Mehdi Mohammadi charged in a post on his social media accounts, that "attacks and accusations against Soleimani are part of a project, which is in line with the IDF Chief's remarks against the Iranian commander".