Radiofarda – The shopkeepers' strike in the northwestern majority Kurdish city of Baneh entered its 19th consecutive day May 3, with business owners keeping their shops closed in protest of the government's decision to ban the import of foreign goods at nearby border crossings.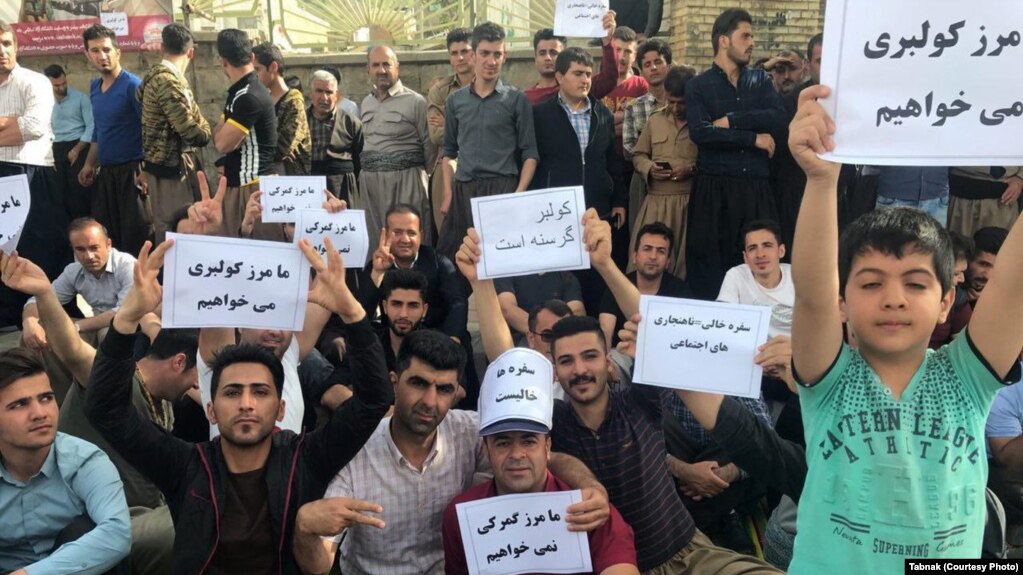 "Rouhani's government is expected to respond to protesters' demands on Sunday. Therefore, the strike will go on until next Sunday," Erbil-based activist Mohammad Mahmoudi told Radio Farda.
Mahmoudi says the demonstrations in Baneh have so far been peaceful, but Kurdish media are reporting that a number of protestors have been arrested. The Kurdistan Human Rights Network (KHRN) has identified the three people who have been arrested as Rzgar Rafahi, Riza Asadi, and Muhsin Alizada.
The France-based human rights monitor said authorities have also carried out house raids in Baneh, during which people were "harshly beaten."
Iran's Kurdish merchants have long relied on "koolbars," porters who carry huge packs of goods on their backs across the Iraq-Iran border on foot illegally, supplying Iranian-Kurdish businesses with products not widely available in Iran, like alcohol, foreign clothing, and other consumer commodities.
Iran has quite strict and complicated import laws, one factor that fuels smuggling of this kind, which some businesses have come to depend on.
In mid-2016 Iranian authorities announced they would issue special licenses to allow the koolbars to cross the border on foot legally, but in October 2017 Iran instead closed the border entirely, reportedly at the request of Baghdad. Kurdish rights groups say the border was closed in order to isolate and weaken Iraqi Kurds.
On December 16, Interior Minister Abdolreza Rahmani Fazli announced a blanket ban on koolbars, saying fifteen border markets would be opened to serve the local merchants instead. However, Fazli admitted at the time that the proposed solution "has social and security consequences."
Cut off from a key source of products to stock their shelves, shopkeepers began protesting earlier this year. There have been no goods for sale in the bazaars in the northwestern Iranian cities of Baneh, Javanrood, Marivan, and Saqqez since April 17. Merchants instead have laid empty tablecloths on the ground to symbolize their starvation as a result of the border closing, Radio Farda reported.
Baneh's Deputy Governor for Political Affairs Nejad Shahidi blames "foreign elements" for stoking unrest among Iran's Kurdish minority and inciting them to protest.
In a video shared online by human rights activists, a man affected by the border closure appears saying, "We are not in a fight against the state. We want bread for our families."
Meanwhile, the dean of the Imam Bokhari School of Religious Sciences [a Sunni seminary] in the Kurdish city of Sanandaj, Hassan Amini, has supported the protesters in a statement, deploring security forces for detaining an unknown number of strikers and threatening others.
Local news website "BanehNews" reported May 1 that the Internet has been down all over the city of Baneh. Kurdish website Hangau reported May 2 that "more than twenty vehicles belonging to special forces have entered Baneh from other cities, and checkpoints have been erected across town with security forces stopping everyone who enters or leaves the city.
Tehran has sent several delegations to the majority Kurdish provinces to listen to protesters' complaints, but no agreements have been reached yet.
A number of Kurdish MPs have joined the chorus of protests over the border closure and the ban on koolbars. Rasoul Khezri, MP from Piranshahr, says the move has cost thousands of jobs.
"The government's decision to close down the borders and ban koolbars has left more than 70,000 to 80,000 jobless in mainly Kurdish populated regions in northwestern Iran," Khezri said.