RFL/RE – An Iranian professional soccer player has been summoned to face a disciplinary committee and banned from participating in the country's Premier League after he showed solidarity with protesters by not celebrating after scoring a goal.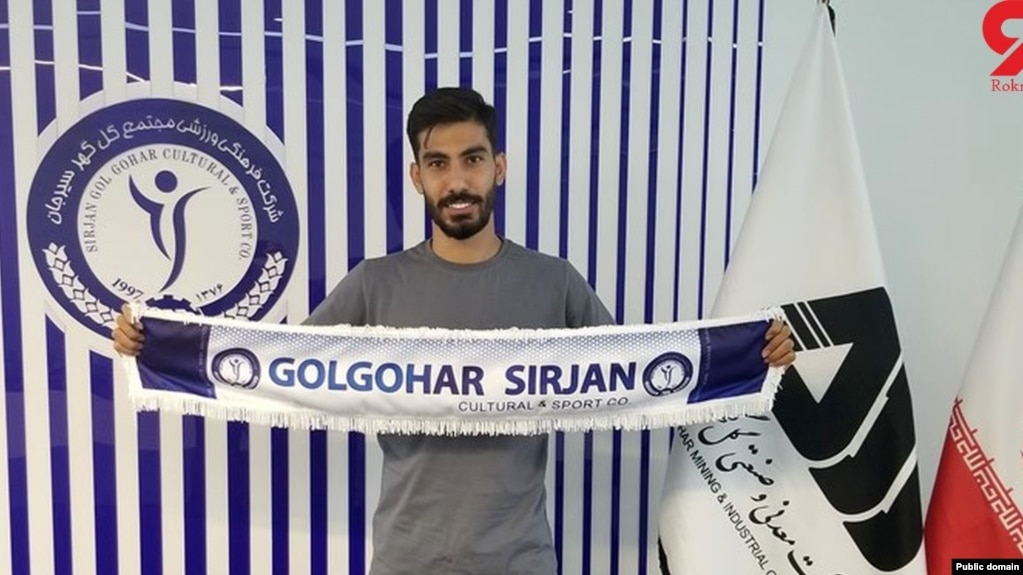 Reza Shekari, who plays with Golgohar FC, said in a post-game interview that he did not celebrate his goal after scoring "due to the conditions of the country and the mourning of the people."
It was not immediately clear how long the player has been banned.

Shekari, 24, also emphasized that he and his teammates are "forced to play football" these days.

Since the death of Mahsa Amini while in police custody for an alleged clothing violation in September, several celebrities and sports personalities, including retired soccer star Ali Daei, have been interrogated and had their passports confiscated after showing support for the protests.
The unrest over the 22-year-old's death, has put women's rights — and a lack of freedoms in general — in the Islamic republic in the spotlight. Daily protests and symbolic gestures across the country have shown the built-up anger many Iranians feel toward the system of rule and pose one of the biggest threats to authorities since the revolution in 1979.
In the face of this deep-seated resentment, authorities have pushed a brutal, and often deadly, crackdown.

Another Iranian professional soccer player Amir Nasr-Azadani, has been sentenced to 16 years in prison on a charge of "assisting in waging war against God."Nasr-Azadani had faced the possibility of a death sentence.
The case has provoked a strong reaction from the international soccer community, including an announcement from the global professional soccer players union FIFPRO that it was "shocked and sickened" by such a punishment for campaigning for women's rights and basic freedoms in one's own country.
Ali Karimi, a former soccer player with Bayern Munich and once the captain of Iran's national soccer team, has also been a target of the government for his support of the protesters and his posts on social media, including on Instagram, where he has nearly 12 million followers.

Karimi, widely regarded as one of the greatest Iranian players of all time, has condemned Amini's death while lending his support to the protesters, particularly women. He has also urged security forces not to allow "innocent blood to be shed."
Iran's Supreme Leader Ayatollah Ali Khamenei has described efforts by celebrities to support the protesters as "worthless" and has called for judicial action against them.

Since Amini's death, more than 500 people have been killed in the police crackdown, according to rights groups. Thousands more have been arrested, including many protesters, as well as journalists, lawyers, activists, digital rights defenders, and others.
Written by Ardeshir Tayebi based on an original story in Persian by RFE/RL's Radio Farda