Iran Human Rights (IHRNGO) – For the sixth day in a row, families of death row prisoners and civil rights activists gathered outside the Judiciary building in protest against the hike in executions. Protesters were beaten and arrested in violent crackdowns at two locations today.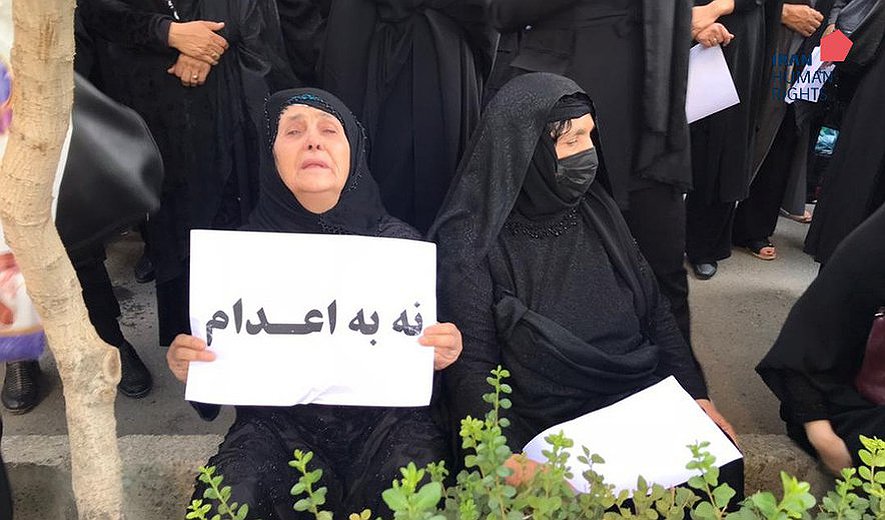 Calling for an immediate halt to the executions and the unconditional release of protesters, Iran Human Rights urges the international community and domestic civil society to support the families in stopping the current wave of executions.
Iran Human Rights Director, Mahmood Amiry-Moghaddam said: "Hundreds of prisoners are at imminent risk of execution and the government response to their families' concerns is to beat and arrest them. Today, it's more critical than ever to defend the right to life of death row prisoners and support their families." He added: "We can increase the political cost of the executions for the Islamic Republic and stop the continuation of this tragedy by people and civil society joining the families in their peaceful protest and the international community and global anti-death penalty movement supporting their demands."
According to information obtained by Iran Human Rights, families of mainly drug death row prisoners have been protesting against the rise since September 6. In violent crackdowns, security forces beat and arrested at least 20 of the protesters gathered outside the Judiciary and Parliament on September 11, the sixth day of the protests.
An informed source told Iran Human Rights: "Protesters gathered outside parliament at 8 o'clock when security forces violently attacked and dispersed them. Most of them were women and children. So, families and protesters gathered in front of the judiciary's building and their numbers were quite high, but security forces cracked down again. They arrested around 20 people who still haven't been released."
The protests were started by families of drug death row inmates on September 6. On September 10, executions exceeded 400 for the first time in five years. At least 38 executions have been recorded by Iran Human Rights in September.
According to information obtained by Iran Human Rights, there are currently at least 1500 prisoners on death row for drug-related charges in Ghezelhesar Prison and 80 at Karaj Penitentiary. They are all at risk of execution.
If executions continue at the current rate, Iran Human Rights predicts that they will surpass 1000 by the end of the year.