theguardian – The outgoing UN human rights commissioner, Michelle Bachelet, has said that China had committed "serious human rights violations" against Uyghur Muslims in Xinjiang province which may amount to crimes against humanity.
Bachelet's damning report was published with only 11 minutes to go before her term came to an end at midnight Geneva time. Publication was delayed by the eleventh-hour delivery of an official Chinese response that contained names and pictures of individuals that had to be blacked out by the UN commissioner's office for privacy and safety reasons.
The Chinese government, which attempted until the last moment to stop the publication of the report, rejected it as an anti-China smear, while Uyghur human rights groups hailed it as a turning point in the international response to the programme of mass incarceration.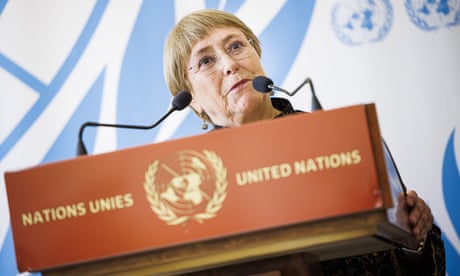 The 45-page report by the Office of the High Commissioner for Human Rights (OHCHR) concluded: "The extent of arbitrary and discriminatory detention of members of Uyghur and other predominantly Muslim groups, pursuant to law and policy, in context of restrictions and deprivation more generally of fundamental rights enjoyed individually and collectively, may constitute international crimes, in particular crimes against humanity."
The Chinese government, which attempted until the last moment to stop the publication of the report, said in an official response that it was "based on the disinformation and lies fabricated by anti-China forces" and that it "wantonly smears and slanders" China and interfered in the country's internal affairs.Download original document
The Chinese response was accompanied by a 121-page counter-report, emphasising the threat of terrorism and the stability that the state programme of "de-radicalisation" and "vocational education and training centres" has brought to Xinjiang.
Human rights organisations welcomed the report. Omer Kanat, the executive director of the Uyghur Human Rights Project pressure group said it was "a game-changer for the international response to the Uyghur crisis".
"Despite the Chinese government's strenuous denials, the UN has now officially recognized that horrific crimes are occurring," Kanat said.Advertisement
Over the past five years, China swept an estimated million Uyghurs and other minority groups into internment camps which it termed training centres. Some of the centres have since been closed but there are still thought to be hundreds of thousands still incarcerated. In several hundred cases families had no idea about the fate of relatives who had been detained.
Out of 26 former inmates interviewed by UN investigators, two-thirds "reported having been subjected to treatment that would amount to torture and/or other forms of ill-treatment".
The abuses described included beatings with electric batons while being strapped in a "tiger chair" (to which inmates are strapped by their hands and feet), extended solitary confinement, as well as what appeared to be a form of waterboarding, "being subjected to interrogation with water being poured in their faces".
The US and some other countries have said the mass incarceration of Uyghurs and other Muslims in Xinjiang, the destruction of mosques and communities and forced abortion and sterilisation, amount to genocide. The UN report does not mention genocide but says allegations of torture, including force medical procedures, as well as sexual violence were all "credible".Advertisement
It said that the authorities had deemed violations of the three-child official limit on family size to be an indicator of "extremism", leading to internment.
"Several women interviewed by OHCHR raised allegations of forced birth control, in particular forced IUD [intrauterine device] placements and possible forced sterilisations with respect to Uyghur and ethnic Kazakh women. Some women spoke of the risk of harsh punishments including "internment" or "imprisonment" for violations of the family planning policy," the report said.
"Among these, OHCHR interviewed some women who said they were forced to have abortions or forced to have IUDs inserted, after having reached the permitted number of children under the family planning policy. These first-hand accounts, although limited in number, are considered credible."
In the report, Bachelet, a former Chilean president, noted that the average rate of sterilisation per 100,000 inhabitants in China as a whole was just over 32. In the Xinjiang Uyghur Autonomous Region it was 243.
"Serious human rights violations have been committed in [the Xinjiang Uyghur Autonomous Region] in the context of the government's application of counter-terrorism and counter-'extremism' strategies," the report said. "These patterns of restrictions are characterized by a discriminatory component, as the underlying acts often directly or indirectly affect Uyghur and other predominantly Muslim communities."
The report calls on the Chinese government to "take prompt steps to release all individuals arbitrarily deprived of their liberty" in Xinjiang and "urgently clarify the whereabouts of individuals whose families have been seeking information about their loved ones".
Sophie Richardson, China director at Human Rights Watch, said: "The United Nations Human Rights Council should use the report to initiate a comprehensive investigation into the Chinese government's crimes against humanity targeting the Uyghurs and others – and hold those responsible to account."
… as you're joining us today from Belgium, we have a small favour to ask. Tens of millions have placed their trust in the Guardian's fearless journalism since we started publishing 200 years ago, turning to us in moments of crisis, uncertainty, solidarity and hope. More than 1.5 million supporters, from 180 countries, now power us financially – keeping us open to all, and fiercely independent.
Unlike many others, the Guardian has no shareholders and no billionaire owner. Just the determination and passion to deliver high-impact global reporting, always free from commercial or political influence. Reporting like this is vital for democracy, for fairness and to demand better from the powerful.
And we provide all this for free, for everyone to read. We do this because we believe in information equality. Greater numbers of people can keep track of the events shaping our world, understand their impact on people and communities, and become inspired to take meaningful action. Millions can benefit from open access to quality, truthful news, regardless of their ability to pay for it.