Iran-HRM – In a letter from Kamyaran Prison, political prisoner Salar Sediq Hamedani referred to the torture he and his father had endured.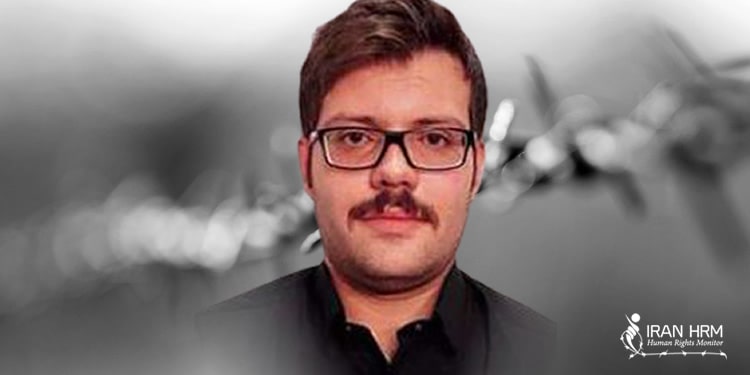 In the letter, political prisoner Salar Sediq Hamedani, who was recently banished to Kamyaran Prison, wrote about his fathers' illness and inability to endure imprisonment.
He also explained that the confinement of political prisoners in Iran together with violent criminals has endangered their lives.
Salar Salar Sediq Hamedani and his father went on hunger strike on January 3, and demanded to be held at the political ward in Urmia Prison.
The authorities separated the two political prisoners from each other, abrobtly taking them to Kamyaran and Marivan prisons.
Immidiately after their transfer, Ebrahim Khalil Sidiq Hamedani was transferred to solitary confinement in Marivan Prison while on a hunger strike.
The full text of Salar Sidiq Hamedani's letter, a copy of which was received by Iran HRM, is as follows:
I, Salar Sidiq Hamedani, and my father, Ebrahim, are serving our third year of imprisonment for being members of the People's Mojahedin Organization of Iran.
After being arrested, we were subjected to the most severe psychological torture in the IRGC's intelligence unit, and after our transfer to Urmia Prison, we were sentenced to imprisonment.
In prison, we were threatened and in some cases attacked with knives by violent criminals hired by prison officials and intelligence agents.
After a while, I was transferred to the Ministry of Intelligence and subjected to the most severe psychological torture. In another case filed against us, we were sentenced to 11 months in prison.
Later, my father and I were both transferred to the IRGC intelligence service for 40 days and were subjected to physical and psychological torture.
After returning to prison, we were attacked again by some prisoners with knives, and the officials of Urmia Prison were not held accountable.
Despite my father suffering from diabetes, he was denied medical treatment in Urmia Prison.
In a letter to the prison officials the specialist doctor wrote that my father should be hospitalized outside the prison under the supervision of specialist doctors.
But prison officials refused to send him to the hospital and did not even provide him with the medication he needed.
Despite the fact that my father was in poor physical condition, we were banished to different prisons. My father was banished to Marivan Prison and I was banished to Kamyaran Prison beside drug offenders.
Why weren't we transferred to the political prisoners ward in Urmia Prison? Is it the right of political prisoners to be held alongside drug offenders or common criminals?
We are behind bars and our hands are tied. We want the world to know what tortures we have endured.
We call on human rights organizations to be our voice so that these crimes may be stopped.
Salar Sediq Hamedani / Kamyaran Prison
Ebrahim Khalil Sedighi Hamedani and his son, Salar, were arrested on February 23, 2019. They were transferred to the Central Prison of Urmia on April 23, 2019, after two months of interrogations.
The first court hearing for the two political prisoners in Urmia Prison was held on September 18, 2019, at the 2nd branch of the Revolutionary Court of Urmia. They were denied access to their lawyer.
The court finally sentenced them to 15 years in prison each for "membership in the People's Mojahedin Organization of Iran (PMOI/MEK)" and to one year for "propaganda against the state."
The 3rd branch of the Revolutionary Court of Urmia further sentenced Mr. Sedighi Hamedani and his son, Salar, to three years in prison for the alleged "filming military centers." Each of the father and son were sentenced to a total of 19 years in prison.
Ebrahim Khalil Sedighi Hamedani had been arrested in 2005 for "collaborating with the People's Mojahedin of Iran" and sentenced to six years in jail. He was conditionally released after serving two years.
On August 3, 2020, six inmates incited by the prison's warden brutalized and wounded political prisoners Ebrahim Khalil and Salar Sedighi Hamedani.
Since the attack had been carried out on the orders of the prison's warden and the internal manager, Amirbeigi, the wounded political prisoners were transferred to the quarantine ward, instead of the infirmary.
These two political prisoners in the Urmia Prison have been frequently harassed and brutalized during their time in prison. They have already contracted the Coronavirus.