Iran Human Rights (IHR) – In the first six months of 2021, at least 117 people were executed in Iranian prisons. There has been a rise in the number of executions since the June presidential election, with at least 38 people executed in one month (18 June-18 July).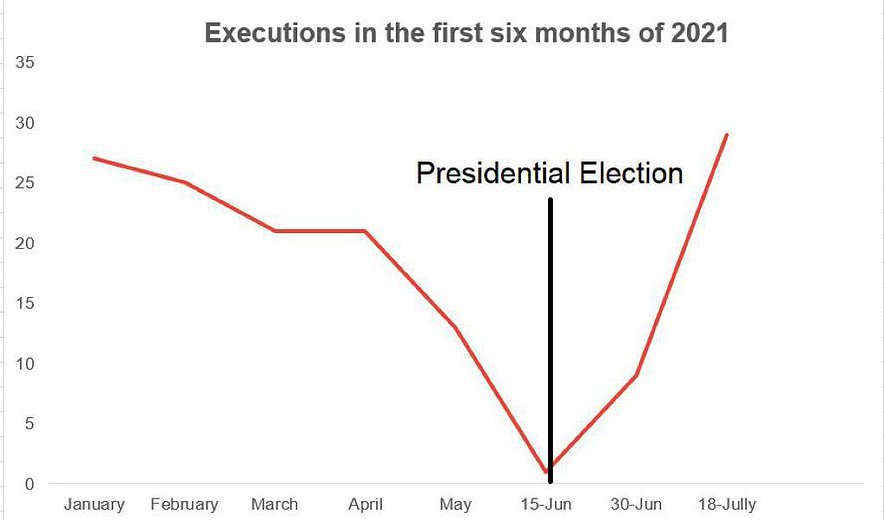 Iran Human Rights' statistics department has registered and confirmed 117 executions in the first half of 2021. Of those executed, six were women and 111 were men. 123 executions were registered for the same period last year.
Of the 117 executions, only 28 were announced by domestic media or officials and the other 89 were carried out secretly.
63 of the 117 were executed on murder charges, 40 on drug-related offences, six on rape charges and eight on security charges. Of the eight people executed on security charges, six had been charged with moharebeh (enmity against God) and two with baghy (armed rebellion).
Executions for drug-related offences have increased by sixfold compared to the same period in 2020 when seven people were executed compared to 40 this year. IHR previously published a report on the death penalty in the first four months of 2021 expressing concern at the significant increase in the number of drug-related executions and warned of the continuation of this trend.
The execution of Baluch citizens also intensified in the first half of 2021, with at least 30 Baluch men executed on drug-related, murder, moharebeh and baghy charges.
Since June 18, a day after the presidential elections in Iran, there has been a sharp rise in the number of executions carried out, with at least 38 people executed in the proceeding month. Executions were halted for nine days before the elections and resumed two days after. Iran Human Rights has previously warned of the correlation between political events such as the elections and a rise in the number of executions.
It should be noted that Iran Human Rights only records secret executions if they can be independently verified by two reliable and unrelated sources. As such, the number of executions recorded are a minimum and the actual numbers are certainly higher.