Iran-HRM – At least 34 political prisoners and prisoners of conscience are currently sentenced to death Iranian prisons, 10 of whom are protesters who took part in nationwide protests in 2017, 2018, and 2019.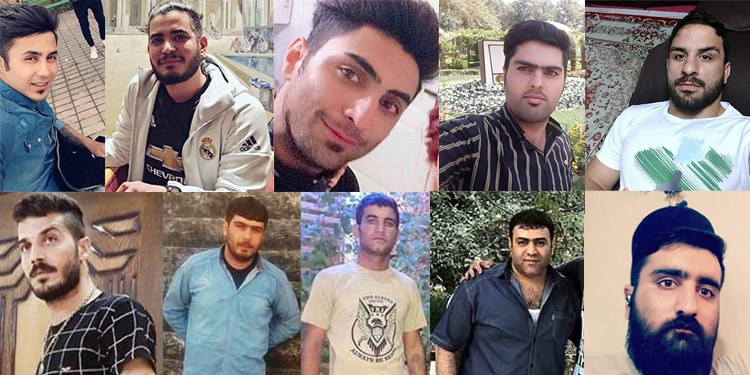 Two protesters in Isfahan and Shiraz have already been hanged by the regime. Mostafa Salehi was executed on August 5 for his role in Iran's December 2017/January 2018 protests in Isfahan. The father of two said he was tortured to confess to a murder he did not commit. He maintained his innocence until his death.
Another protester Iranian champion wrestler Navid Afkari was executed in Iran on September 12 despite a high-profile international campaign calling for the sentence not to be carried out. The regime had accused Navid of killing a security agent, a charge he vehemently denied and said was forced to confess to under torture.
The 27-year-old has been hailed as a national hero by many Iranians and has become a well-known Iranian political prisoner in the world due to his brave statements from prison on the regime's injustice.
The Iranian regime's use of the death penalty against political prisoners and protesters is aimed at intimidating would-be protesters and prevent future protests.
The present report lists the names of other political prisoners on death row in Iranian prisons.
The Greater Tehran Penitentiary:
Amirhossein Moradi, Mohammad Rajabi and Saeed Tamjidi were sentenced to death in connection with the nationwide protests that took place in November 2019. Iran's judiciary spokesperson accused them of being "riot leaders".
Mohammad Rajabi and Saeed Tamjidi have said they were kicked, hung upside down and repeatedly beaten. Amirhossein Moradi has said that interrogators tortured him through beatings, electric shocks and standing on his chest. He also reported painful kidney problems as a result of the torture. Despite this, he has been denied medical care. His "confessions", which he has said were given under torture, were used as evidence by the court to convict all three.
Dastgerd Prison of Isfahan:
Mohammad Bastami, Hadi Keyani (Kiani), Abbas Mohammadi, Majid Nazari Kondori, and Mehdi Salehi- Qaleh Shahrokhi, have received "two death sentences" each for "waging war against God" and "taking up arms against the state".
The five young men all born in the 1990s, were arrested in Isfahan, central Iran, for participating in widespread anti-government protests in late 2017 and early 2018.
They have been under intense interrogation and torture by authorities in order to obtain confessions to crimes they did not commit.
Khorramabad Prison:
Mohammad Keshvari is one of the Iranian protesters on death row in Iran. He was detained for his role in November 2019 protests. He was sentenced to death by the Revolutionary Court on June 28.