Shabtabnews – On December 3rd, 2011, the Islamic Republic ordered its 'cyber army' to hunt, steal, and decrypt classified manufacturing blueprints of the Sentinel RQ-170 American spy drone. As result of which, for years later it boasted its prowess in successfully "reverse engineering" the manufacture of American drones.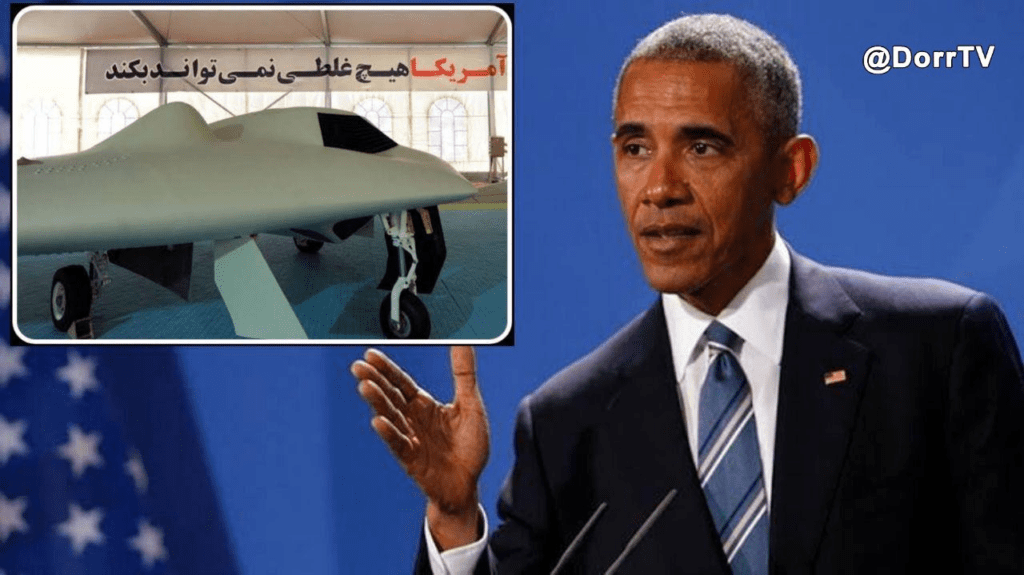 The Sentinel RQ-170, which was built by Lockheed Martin and used by the United States Air Force in its long-term operations, was technologically very advanced and thus its manufacture was beyond the Islamic Republic's regime capabilities; as the regime did not have access to this type of technology.
However, yesterday, Dorr TV news sources revealed that the Iranian regime's successful replication of this drone was not as result of any cyber, and decryption operations, and that in fact the drone was delivered to the Iranian regime under the direct order of President Obama, after secret talks between the Islamic Republic and the United States. The subsequent propaganda, and manoeuvring of the Islamic Republic's in regards to the "successful cyber hunt of the drone's" secrets was simply a cover story for this secret delivery under the direct order of President Obama.
According to "Dorr TV" news sources, RQ-170 delivery flight started from a military base in Afghanistan, and near Kandahar province, where then the drone entered the Iranian airspace, in accordance with the pre-arranged coordination, between United States, and the Iranian regime. The drone finally landed near an IRGC's defence base.
According to the report, the exact location of the delivery of the US drone was at a location 230km inside the Iranian border, near the city of "Bardaskan" between Khalil Abad and Kander. In a secluded area with a low-traffic, which was deemed to be a suitable place for the drone to land. The IRGC base near to the landing site of the done, was where IRGC officially took deliver of the "Barack Obama's" gift to the Islamic Republic. The drone was then swiftly transferred to the main headquarters of the IRGC "Shahid Ahmad Kazemi" aerospace organisation. After this delivery the propaganda apparatus of the regime started it cover story for the delivery under the guise of Iranian Cyber army's successful covert operation to steal the classified plans of the drone.
The informed source also added that in the same year, with the approval of Barack Obama and the coordination of the US National Security Agency, a large number of defective parts from the US nuclear facilities, including a Leak Detector, was delivered to the Islamic Republic, via the UAE!
These transactions were carried out directly by the Supreme Leader of the Islamic Republic, Ali Khamenei, and the primary circle of power in the Iranian regime.