Radiofarda – According to Iran's Health Ministry, 117 Iranian COVID-19 patients passed away in Iran in 24 hours pushing the death toll to 2,757 as of March 30. In the same period 3,186 new cases were identified which brought officially confirmed cases to 41,495.
In his daily report Dr. Kianoush Jahanpur, Spokesman of the Iranian Health Ministry, said so far 13,911 patients have recovered from COVID-19 and currently 3,511 patients are "critically ill".
Dr. Jahanpur also said that the Health Ministry is continuing its national screening for coronavirus (SARS-CoV-2) and so far 63 million Iranians have signed up on the government portal. This screening is not administering tests but looking for related symptoms.
This is the third consecutive day in Iran's coronavirus epidemic calendar with more than 3,000 new cases. However, official figures show a slow decline in the number of deaths in the same 72- hour period. The number of deaths announced by the Health Ministry for March 28, 29 and 30 is 139, 123 and 117 respectively compared with 157 on March 26, the highest recorded number of deaths since February 19.
The number of deaths that have been officially announced since the beginning of the outbreak on February 19 has grown quite steadily with no sudden growth or peak despite the significantly higher number of confirmed infections in the past couple of weeks. It is not clear why Iran's numbers do not show a fast rise in the number of deaths, as is the case in many other countries.
The recent high infection figures may indicate an acceleration in the identification of new cases, possibly due to better availability of test kits and a government online screening initiative for identification of possible cases.
Data gathered by Radio Farda from various national and local media in Iran, as well as comments made by regional authorities and Health Ministry officials, indicated 4,298 people died as of March 29 and 66,657 were hospitalized or quarantined for COVID-19 symptoms. Radio Farda's estimate is also very conservative, and the real number of the victims could be much higher.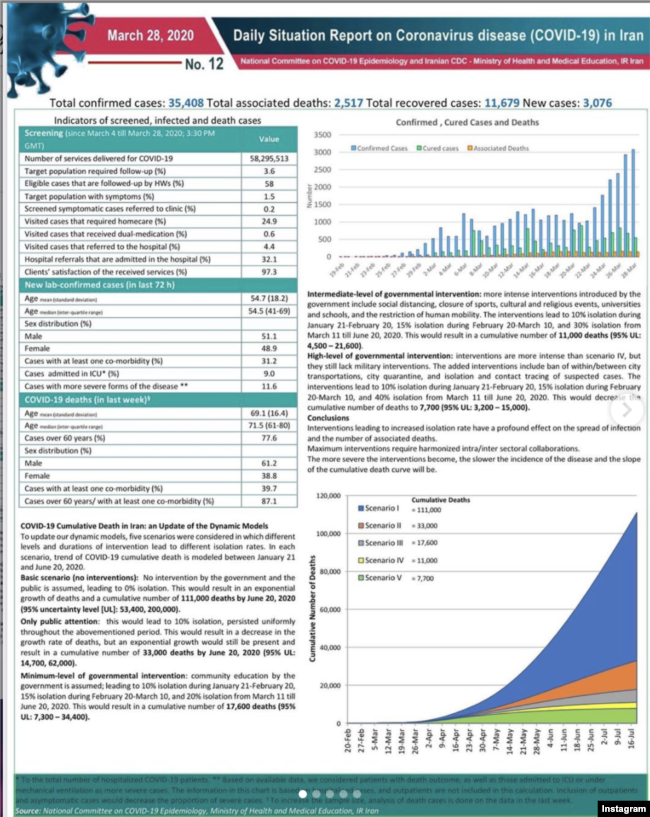 In an open letter to President Hassan Rouhani on Sunday, Mostafa Moein, a prominent reformist politician who also heads the Board of Directors of Iran's Medical Council said the government must announce the precise number of infected and hospitalized patients as well as the death toll by city and province "transparently and honestly" to help authorities make fact-based decisions and to gain the trust and better cooperation of the public.
The government has so far only published the figures selectively and never included the death toll in Qom and Tehran provinces in its reports, presumably due to concerns about national security. Tehran and Qom, the main cities of these two provinces, are Iran's political and religious capitals, respectively.
Meanwhile, a presidential official on Sunday said the National Coronavirus Combat Taskforce has predicted that the coronavirus crisis will continue until early summer.
In an Instagram post on Sunday Parviz Karami who is the Spokesman of the President's Science and Technology Deputy, said with no government intervention coronavirus could kill at least 111,000 Iranians until July 16.
According to a model that he quoted, if the government keeps its intervention to a minimum level the death toll will be at around 33,000 while if it intervenes at an intermediate level — that is if it enforces social distancing, closure of sports, cultural and religious events, universities and schools, and the restriction of human mobility — the figure may be around 11,000.
The Iranian government appears to have adopted the intermediate intervention approach. But if the death tally at this point is around 4,000, the estimated number of 7,700 seems to be too low.
The same model predicted that high-level of government intervention without the involvement of the military but including banning inter/inner city transportation, city quarantines, and isolation and contact tracing of suspected cases could bring the death toll radically down to 7,700.SEE ALSO:One Hundred Activists Blame Khamenei For Severity Of Coronavirus Outbreak In Iran
A study cited by Dr. Afruz Eslami on the state-run television on March 17 predicted that if people cooperated fully, Iran would see 120,000 infections and 12,000 deaths before the outbreak was over but the death toll could rise to 110,000 with medium cooperation and moderate discipline and 3.5 million if people failed to follow any guidance and the already-strained medical system collapsed.
The study was conducted by Dr. Ali-Naghi Mashayekhi, a professor of the prestigious Sharif University of Technology, using system dynamics methodology. The details of the study have not been published.
On March 17 Dr. Rick Brennan, a World Health Organization (WHO) official who returned from a mission to Iran told Reuters that the number of cases reported by Iran could represent only about a fifth of the real numbers. "The reason was that testing, as is the case even in some wealthy European countries, was restricted to severe cases," he said.