RFL/RE – The global death toll from the coronavirus has passed 21,000 with more than 470,000 infections confirmed, causing mass disruptions as governments continue to try to slow the spread of the new respiratory illness.
Here's a roundup of developments in RFE/RL's broadcast countries.
Russia
The Russian government has ordered the suspension of all regular and charter flights in and out of the country effective from March 27 as the country battles to stem the spread of the coronavirus pandemic.

Russian officials on March 26 reported a total of 840 confirmed coronavirus infections in the country, up from 658 a day before, with 136 of the new cases in Moscow alone.

Russia's coronavirus task force also confirmed the country's first two deaths from COVID-19, describing the victims as elderly patients from the Moscow region who were suffering from pneumonia and complications.

On March 19, Moscow health authorities had reported the death of a 79-year-old woman as coronavirus-related, but hours later a new statement was released saying an autopsy had confirmed the woman had died of a blood clot and not from the virus.

"Regular and charter flights from Russian airports to and from foreign airports are to be suspended starting at midnight on March 27, 2020, with the exception of flights aimed at bringing Russian nationals back from overseas…and flights carried out in accordance with the government's decisions," the government said on its website.

Russia had already put restrictions in place regarding air transportation.

As of March 23, Russian airlines were only allowed to service foreign capitals or large cities like New York and only from Moscow airports.

The moves come as countries throughout the world are restricting entry and exit from their borders in attempts to stem the spread of the coronavirus pandemic.
On March 25, President Vladimir Putin postponed next month's referendum on sweeping constitutional changes that could allow him to remain in power until 2036 because of concerns over the coronavirus outbreak.
Putin said a new date for the April 22 vote would be determined based on the recommendations of health experts.

Putin's announcement came after Prime Minister Mikhail Mishustin ordered provincial governors to move at a quicker pace to provide hospital beds for coronavirus patients, while Moscow Mayor Sergei Sobyanin ordered the closure of all the capital's eateries, shopping malls, and parks from March 28 to April 5.
Interactive Coronavirus Map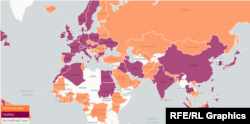 Updated constantly throughout the day by Johns Hopkins University
Iran
Iran has announced 157 new deaths from the coronavirus, raising the official toll to 2,234, as a ban on intercity travel came into effect amid fears of a second wave of infections in one of the world's worst-hit countries

Health Ministry spokesman Kianush Jahanpur told a news conference that a record-breaking 2,389 new cases have been confirmed over the past 24 hours, bringing the total number of declared infections to 29,406.

Jahanpur said that the spread of the new coronavirus and its rate of infection was "growing steadily" in Iran.

The travel ban was imposed after officials had complained that many Iranians ignored the authorities' advice to stay at home and cancel travel plans for the Persian New Year holidays that began on March 20.

"Those who have traveled for the Iranian New Year holidays should immediately return to their cities without making any stop in the cities on their way back home," Hossein Zolfaghari, a member of Iran's national headquarters for fighting the coronavirus, said on March 26.

"The closure of universities and schools as well as the suspension of gatherings has been extended," Zolfaghari said, adding that violators of the measures will face legal consequences.
On March 25, the government warned about the danger of ignoring the authorities' travel guidelines.

"This could cause a second wave of the coronavirus," government spokesman Ali Rabiei said, according to state TV.

President Hassan Rohani said Iran will contain the coronavirus spread in two weeks, adding that further measures have been taken to ease the economic impact of the outbreak on lower-income citizens.

"We will send a letter to Iran's supreme leader today to seek permission for the withdrawal of $1 billion from Iran's sovereign wealth fund," Rohani said in a meeting, broadcast live on state TV.

Supreme Leader Ayatollah Ali Khamenei has the last say on all state matters.

Iran has rejected an offer from the Geneva-based medical charity Doctors Without Borders (MSF) to set up a 50-bed inflatable hospital in the central city of Isfahan to deal with the outbreak.

It has also refused the United States' offer of humanitarian assistance, saying that Washington should lift sanctions if it wants to help Tehran fight the epidemic.

Iran has been under crippling U.S. sanctions in connection with its nuclear and missile programs.
With reporting by Reuters, TASS, AFP, and AP