Radiofarda – A young labor-rights activist's tweet has once again triggered a heated debate over the role of the state-run TV reporters and anchors in producing forced confessions of dissidents in Iran.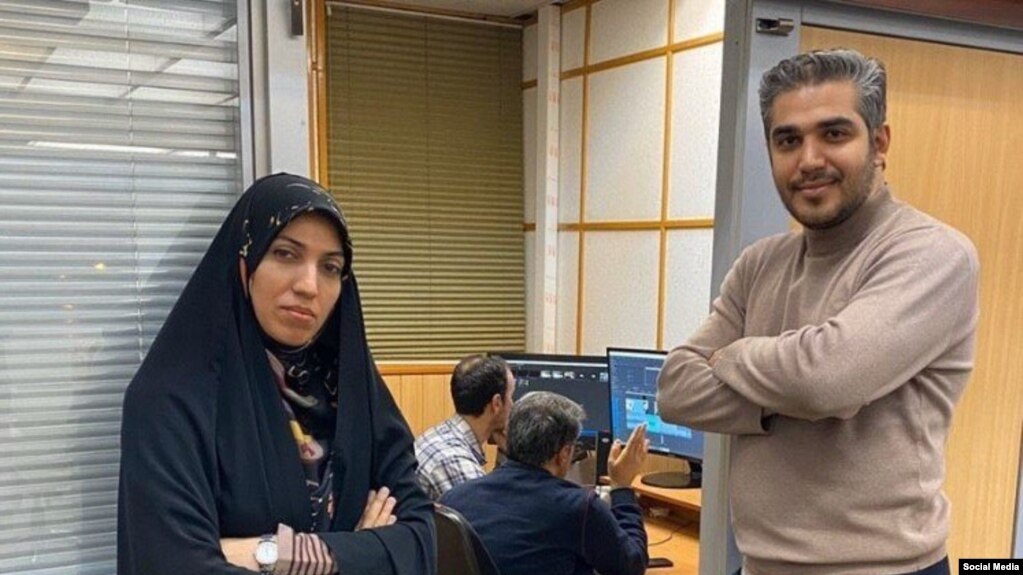 Labor rights defender, Ms. Sepideh Qolyan (Gholian), 24, revealed in a series of tweets on Wednesday, December 25, that the monopolized state-run TV reporter, Ms. Ameneh Sadat Zabihpour, has been involved in producing activists' forced confession videos.
Based on the Islamic Republic's law, even the name of crime suspects should not be disclosed until the final verdict is issued against them.
Nevertheless, Iran's monopolized TV network freely airs forced confessions of labor rights and political activists even before they are officially charged with a crime.SEE ALSO:Jailed Civic Activist Goes On Hunger Strike In Iran To Protest Cruelty

"During the production of a documentary titled "Failed Planning", Zabihpour was present in my interrogation room and after being tortured we would read the text she had prepared for us in front of a camera."
The documentary was aired by the state broadcaster, IRIB, in January. In the film, Qolyan "confessed" to shooting videos and photos during January 2018 protests and sending them to journalists outside Iran.
Now Qolyan is free on bail and on December 24 she tweeted that she has sued the reporter for her role in the production of the so-called documentary.
Hours later, her Twitter account was deactivated.
Recently, another IRIB reporter, Ali Rezavani, was also accused of cooperating with the fearsome Islamic Revolution Guards Corps (IRGC) Intelligence Organization.SEE ALSO:'No Proof' Of Spying For Environmentalists In Jail – Intel Ministry
The son of a prominent Iranian environmentalist disclosed last year that Ali Rezavani assisted the IRGC intelligence agents in forcing his mother to admit her husband was a "spy".
Iranian-Canadian ecologist and university professor, Kavous Seyyed Emami was arrested late January 2018 and charged with espionage. His dead body was found on February 8. The authorities officially declared that he had committed suicide behind bars in Tehran's infamous Evin prison.
Although the judicial authorities officially claimed that there was a CCTV footage showing Professor Seyyed Emami committing suicide, the footage was never published.
Immediately after international calls for an independent investigation into Seyyed Emami's suspicious death, the IRIB aired a "documentary" under the title of "Forever Suspects" to discredit the Iranian-Canadian ecologist and present him as a "spy" hired by "foreign hostile" intelligence services.
The night the IRIB was shooting "Forever Suspects", Seyyed Emami's son revealed, Ali Rezavani came to their house in Tehran and barraged his mother with a series of unrelenting questions that broke her down to the extent that she was hospitalized.
Last November, another IRIB staff, Esmaeil Fallah, made the news by choosing to remain in London, and declaring that he would not return to Tehran.
Fallah had a record of cooperating with the intelligence agents in the 1980s and being present at the so-called confessions of a leading student rights activist, Ali Afshari.
Later, Afshari divulged in a letter that his interrogator forced him into an interview. Then, Fallah replaced the interrogator and conducted the same interview according to a prepared scenario.
Ultimately, Afshari revealed, an edited version of his forced interview with the interrogator, and his already approved answers to the prepared questions read by Fallah that were aired on the state TV network's prime time newscast.Subscribe to our weekly newsletter
Radio Free Europe/Radio Liberty © 2019 RFE/RL, Inc. All Rights Reserved.