theguardian -For nearly 40 years, Iranian women have been banned from watching stadium football matches. The photographer Forough Alaei, a World Press Photo winner in the sports category for her Crying for Freedom series, describes following the story of Zeinab, one of the first women to disguise herself as a man to watch matches
by Forough Alaei
Mon 15 Apr 2019 07.35 BSTShares2,191
It takes Zeinab about 15 hours to travel from Ahvaz to Tehran by train to watch Persepolis, her favourite football club. Since the Islamic revolution of 1979, women have been banned from attending stadium football matches. Despite the ban, female football fans have never given up and have tried different methods to enter stadiums, including disguising themselves as men.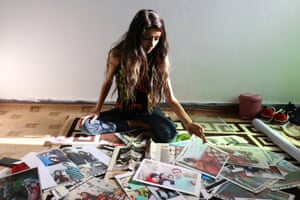 Zeinab at home in Ahvaz,Iran, with pictures of times she tried to get into matches and take photos with her favourite players.
Although they run the risk of being arrested, their passion for football as well as their determination to fight for their rights has kept them going.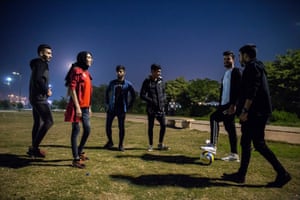 Zeinab plays football for fun every weekend. Her dream, probably unobtainable in Iran, is to become a coach.
During a trip in 2018 by Fifa's president, Gianni Infantino, to Iran, 35 women were arrested for trying to enter a stadium for a match between Persepolis and Esteghlal. He subsequently increased pressure on Iranian officials to lift the stadium ban.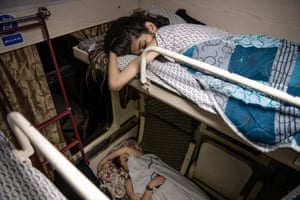 It takes around 15 hours for Zeinab to travel to Tehran by train to watch her favourite team, Persepolis.
Forough Alaei, a female photographer who covered Zeinab's story, said: "I remember the first time that I took photos for this project was when Iran's national football team qualified for the World Cup for the fifth time. That night many Iranian football fans gathered on the street to celebrate.
"In contrast to the outside view of Iran's society – that women are passive and don't participate in social matters – there were lots of mothers and daughters on the street. They danced and celebrated all night long. I've heard a lot about female football fans who like to go to stadiums and watch live matches. But that night rang a bell for me. After seeing all these women on the street, I realised this issue was a concern to many women and wasn't limited to just a few football freaks."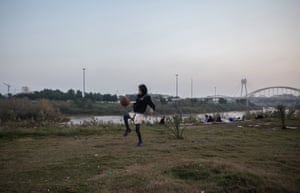 Alaei said the ban was a big issue for many Iranian women, with it spilling over into action in international stadiums during the 2018 World Cup.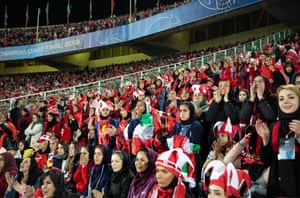 A few hundred female fans were allowed into the Azadi stadium, in Tehran, to watch a match in 2018 – the first time it had happened on that scale in about 40 years.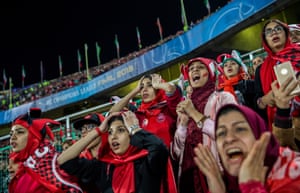 Persepolis FC misses an opportunity in a counterattack during the ACL final against Japan's Kashima Antlers, in Tehran.
"The second event was when cafes in Tehran were allowed by the government to show the World Cup matches on their TVs, so women could watch the matches in public places with other men. Even this small freedom brought happiness to our female society.
"The last one was so impressive for me. It was when the government allowed families to go to Azadi stadium, in Tehran, to watch Iran play on a big screen. I interviewed many women there. They were from different social classes and a few of them came from cities other than Tehran."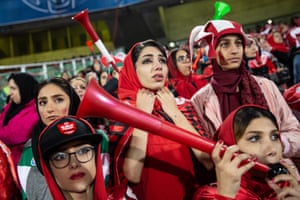 Zeinab cries with happiness when she finally enters Azadi stadium, in Tehran, Iran. She was one of a few hundred women who were allowed to watch the match and had to wait two hours to go through the gates.
"One of them told me she was so happy to see inside a stadium before she died. Another lay down on the field when the match was over and said she 'wanted to feel the field, maybe it would be the last time'. The interesting point was some of them were not big football fans; they just came, they said, to enter a stadium once in their lives."
The Iranian government had by this stage started to show it was willing to compromise over the 40-year ban, and started allowing women into some matches at the Azidi stadium.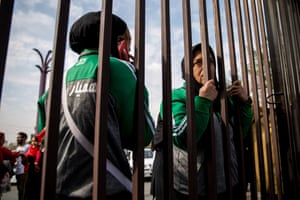 Two female fans of Persepolis football club waited more than five hours to enter the Azadi stadium, in Tehran, Iran.
After waiting several hours to be let into the Azadi stadium, the authorities finally opened the gates, said Alaei. "Almost all of us were crying from happiness in those glorious moments," she said. "I felt the passion of the fans and could see it on their faces. That was the moment I decided to call my story Crying for Freedom … In Persian, Azadi means freedom or liberty."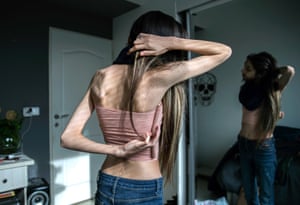 Zeinab bandages her body to disguise herself as a man before entering a stadium.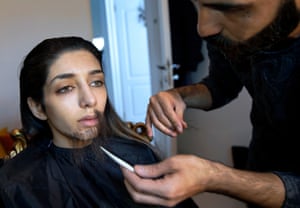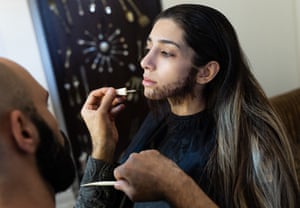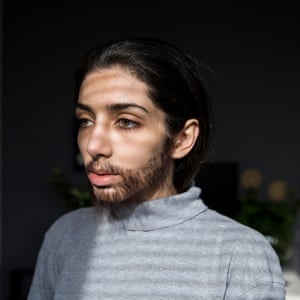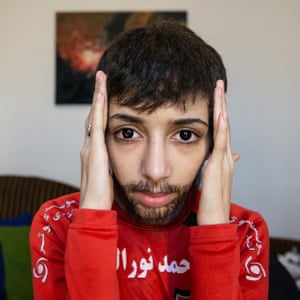 Zeinab applies a wig and facial hair as part of her disguise.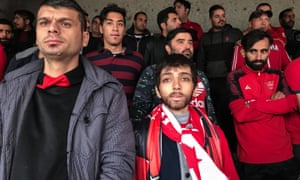 Women have not stopped fighting for a total lifting of the ban, said Alaei. "Through this project I became familiar with brave fans who disguise themselves as men to not only enter the stadium, but also give a voice to their rights. They fight against the inequality and risk getting arrested. I met one of the girls, called Zeinab, who is now a close friend. When I got to know her, and her beliefs and passion about football and women's rights, I was so impressed.
As a female photographer, I'm not permitted to take my camera to the stadium. Therefore, I had to pass myself off as a boy and use my iPhone to take this shotForough Alaei
"I decided to enter the stadium with Zeinab to complete my project. I had not even thought of taking such risk before, but after I saw their efforts I felt that I had to promote their voices. So this time both of us disguised ourselves as men and entered the stadium."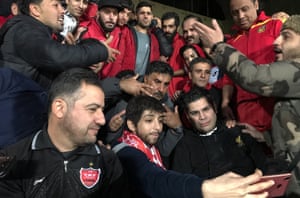 After she entered the Azadi stadium in Tehran, Zeinab took selfies with male football fans who have since become friends.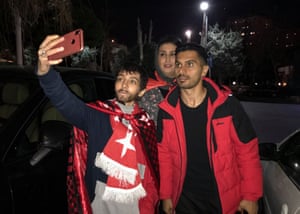 Zeinab takes a selfie with a Perspolis football player in a hotel in Tehran. She had gone to the stadium disguised as a man.
I was so nervous; every moment we might get arrested by the police. Zeinab was calmer than me because she had more experience and had been arrested four times before that day, but it was my first timeForough Alaei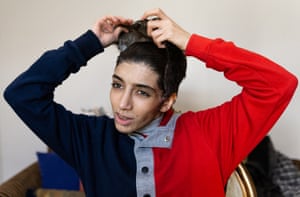 "I remember when we passed through the gate and entered the stadium, I couldn't stop my tears for about 10 minutes. It was so humiliating when you had to change your face; we even had to bandage our breasts to look flat as boys. Even Zeinab, when we undid the bandages, she couldn't stop crying. At first we looked weird to the men around us, and one of them was about to kick me. But after they noticed we were not men, they showed huge support. Then we could enjoy the match."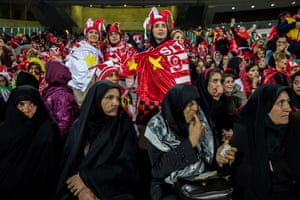 Female guards in the segregated female section of the Azadi stadium, in Tehran, during the final match of the AFC Champions League between Iran's Perspolis and Japan's Kashima Antlers.
How long did you work on the story and how many matches were you able to cover?
I've been working on it since late 2017. In every match where women were allowed, I was there. To mention a few, Iran-Spain and Iran-Portugal in the World Cup 2018, when we saw the match on big screens, a friendly match between Iran and Bolivia in October 2018 and the Asian Champions League final between Persepolis and Kashima Antlers in November 2018. I also went to a domestic match between Persepolis and Pars Jonoubi Jam in December 2018 – I had to disguise myself as a boy to enter the stadium.
Is life changing for women in Iran at the moment?
As a female photographer who tries to show discrimination, I feel that change is continuously occurring, but at a slow pace.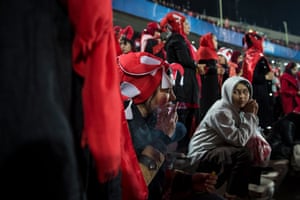 A woman smokes to relieve her stress during the final of the AFC Champions League between Iran's Perspolis and Japan's Kashima Antlers in Tehran.
Were you surprised to be nominated for the World Press Photo awards?
I was so excited when they told me that I was one of the nominees. However, it wasn't a big surprise because they had asked me to send them the RAW files.
As far as I'm concerned, it is an important issue for women to have their rights. So I thought the World Press Photo awards would amplify the voice of female football fans in Iran. Also, I was encouraged by some of professional photographers who gave positive feedback.
Receiving the Wold Press Photo award is a unique honour. I am glad to get a chance to be a part of the conversation made by some of the most talented photographers on challenges we face nowadaysForough Alaei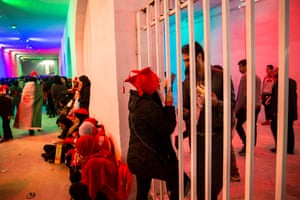 Iranian women are kept separate from men in different stands at Tehran's Azadi stadium.
Are you disappointed the ban has not been lifted completely?
Reform in every society is gradual. Although we hope for the ban to be lifted, we know that it takes more time and the support of every person related to the issue. So, as you may see from the women who are still trying to get into the stadiums, the female fans have not given up.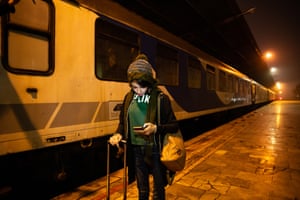 Zeinab at the train station on her way to Tehran to watch a match.
Will you continue to cover this story in the future?
Sure, I'll do it until we, women, are free to enter the stadiums; not only for the international matches but also for our domestic league. I'm sure we're approaching that point.