Iran-HRM Several protesters were reportedly killed and dozens were wounded after the state police in two Iranian cities opened fire on protesters on Wednesday, March 21.
The protests in two cities of Dezful and Andimeshk, 10 kilometers apart in Khuzestan Province, followed the installation of a billboard, displaying images of regime proxies killed in Syria who are described by the Iranian regime as "Protectors of the Shrine."
This billboard was installed 500 meters outside of Andimeshk's entrance.
Videos posted on social media appear to show locals clashing with state police and members of the Revolutionary Guards (IRGC) Basij paramilitary forces, only hours before the beginning of the Iranian calendar new year.
According to local reports, security forces opened fire on protesters killing two people. These reports have yet to be confirmed.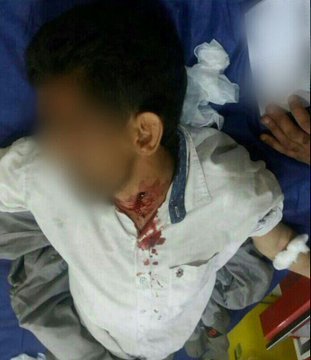 A number of regime agents were also beaten by the protesters, reports show.
Nearly a month ago the people of Andimeshk protested the installation of another large billboard containing similar images. The protest resulted in locals literally bringing down the large sign.
Back then, the quarrel came to an end with the Khuzestan Province governor intervening and the Dezful city council pledging to resolve the matter by March 14. However, this subject has remained unresolved, placing the responsibility on the mullahs' Interior Ministry.
During Wednesday's clashes, the angry locals of Andimeshk protested the installation of the new billboard by attacking the regime's Red Crescent office where state forces had gathered to launch their attack, setting the facility on fire. Protesters also set a number of state vehicles and police motorcycles ablaze, reports indicate.
State-run media said that a few people were injured during the clashes adding that the people of Andimeshk and the neighboring town of Dezful had clashed with each other over where the billboard should be installed.
Locals in Andimeshk have said that the clashes were with security forces and not between the people.