Radiofarda – Iranian Writers Association (IWA) has strongly protested the decision by judicial authorities to set huge, unaffordable bails for three of its indicted members, which has led to their detention.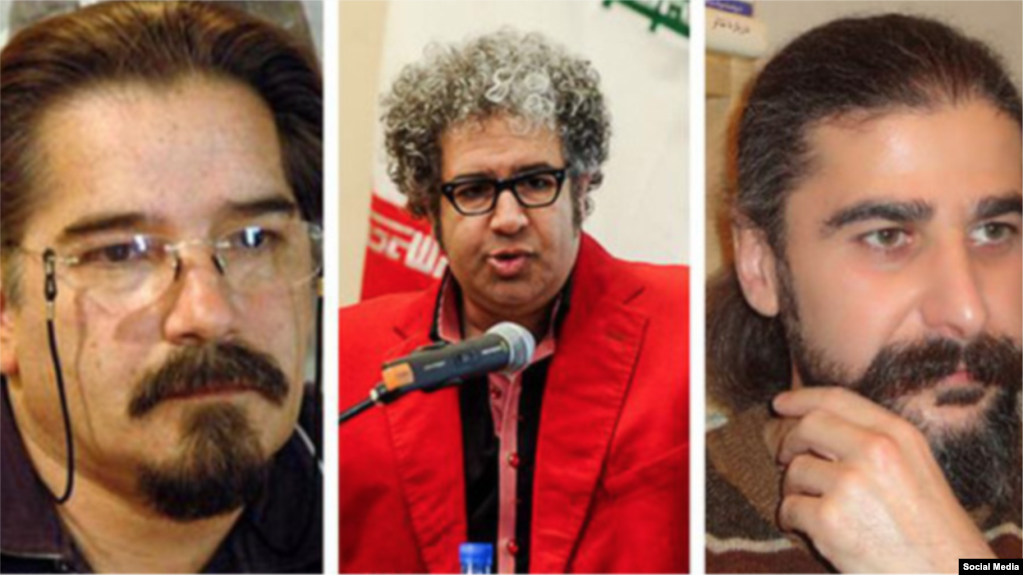 In a statement published on Tuesday, January 22, IWA said, the ten billion rials (roughly $240,000) bail set for Bektash Abtin, Kayvan Bazhan, and Reza Khandan Mahabadi "is unacceptable" and they should be released immediately.
The large bail set for Abtin, Bazhan and Khandan Mahabadi was set after the judge rejected prominent lawyers, Nasser Zarafshan and Ms. Razieh Zaydi, to represent the indicted writers.
"Immediately after rejecting the proposed lawyers, the judge raised the amount of bail tenfold, from one billion to ten billion rials, and ordered the suspects to personally defend themselves," the statement said.
Dismissing the judge's decision as "violating" the rights of the trio, IWA has also protested placing its members behind bars in Tehran's infamous Evin prison.
The writers were first accused of "propaganda against the regime" and then of two more serious charges, "assembly and collusion" against national security, and encouraging corruption and prostitution among women, the statement has noted.
Meanwhile, the official news agency of President Hassan Rouhani's Administration (IRNA) reported on Wednesday, January 23, that another writer, Yashar Soltani, has been found guilty and sentenced to five years for reporting fake news and insulting state-run institutions.
Yashar Soltani, managing director and editor-in-chief of Memari (Architecture) News website was arrested in September 2016, following publication of a set of declassified reports involving the General Inspection Office on the controversial transfer of Tehran Municipality properties to a number of individuals.
Abtin, Bazhan, and Khandan Mahabadi, sued by President Rouhani's Ministry of Intelligence, reportedly have been accused of "propaganda" against the Islamic establishment and publishing an "illegal" journal and publishing its internal news bulletin "Andisheh Azad", Free Thought.
Earlier, posting a photo of a man injured by police to his Instagram account had cost Iranian poet and filmmaker Baktash Abtin three months of community service at the State Welfare Organization and a fine of fifty million rials (roughly $1,200).
"Mazdak's face was badly bruised and he had broken cheeks and ribs," Abtin told the Center for Human Rights in Iran (CHRI) on June 7, 2018. "When I posted his photo on my Instagram, it got a lot of attention and it was widely shared on the internet. A few days later, I got a summons from the Revolutionary Court in Karaj for 'propaganda against the state'."
Mazdak Zarafshan was injured by the police on December 2, 2016, when they tried to violently shut down a memorial service for Iranian authors who were murdered in 1998, CHRI reported.
Mazdak Zarafshan is the son of prominent Iranian lawyer, Nasser Zarafshan, who served five years in prison in Iran for representing the families of dissidents murdered in the 1990s in what came to be known as the "chain murders".
Iran's Writers Association (IWA) was established in 1968, during the reign of Shah Mohammad Reza Pahlavi. However, after the establishment of the Islamic Republic in Iran, it has never been officially recognized, and always under pressure by intelligence agents.
At least two prominent members of IWA, Mohammad Mokhtari, and Mohammad Jafar Pouyandeh were murdered by the Islamic Republic's agents during a series of killings known as chain or serial murders in 1998.