Radiofarda – The coordination council of the workers and personnel of Iranian railways and technical constructions maintenance has issued a statement, insisting that their strike will continue until all their demands are meted out.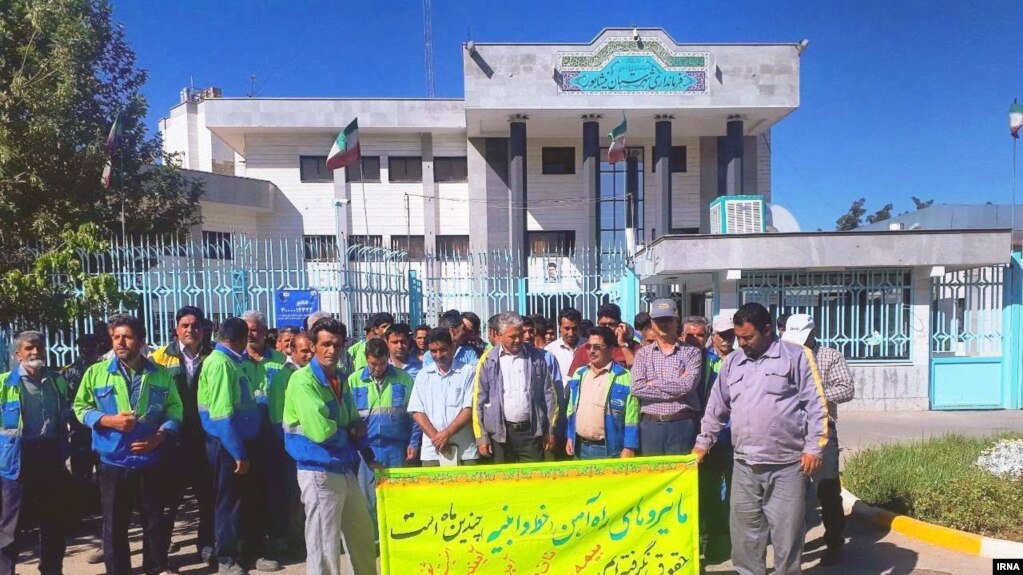 Since our last week "demands have not been met", all the workers in Iran railways network will resume their protest rallies across the country until achieving their goals, the statement says.
Iran has been engulfed in mass demonstrations since last December when widespread protests broke out. The protests, long before President Trump's decision to withdraw from Joint Comprehensive Plan of Action (JCPOA) or Tehran's nuclear deal with world powers, spread to more than hundred cities and soon turned into anti-Islamic Republic demonstrations.
The removal of sanctions in the 2015 nuclear deal helped Iran's economy, but not to the extent satisfactory for tens of thousands of workers who have been fighting for their overdue wages. Enraged workers, students, teachers and activists have repeatedly criticized the Islamic Republic leaders of "wasting" national assets for their extraterritorial "adventures", including meddling in Syria, Lebanon and Yemen internal affairs.
Meanwhile, slowed growth, inflation, high unemployment and a nosediving currency have fueled discontent among other strata of Iranian society, including influential merchants of grand bazaars who have traditionally been supporters of the conservative clergy.
Railways workers initiated their strikes and protest assemblies on July 20 to demand their 2-3-month overdue wages.
Enraged railway workers unanimously joined the strike in various cities in provinces of Arak, Azarbaijan, Isfahan, Khorasan, Lorestan and Zanjan. Meanwhile, workers in the cities of Andimeshk, Eslamshahr, Damghan, Gorgan, Karaj, Semnan, Shahroud, Urmia, Varamin and Zahedan also went on strike and held protest rallies.
According to the workers statement, seven thousand employees in charge of maintaining railways and technical constructions across Iran demand all their overdue wages paid, cancellation of temporary contracts and replacing them with permanent ones, receiving insurance subsidies, enjoying the right to launch trade unions and the right to holding protest rallies, whenever needed.
The statement also insists that the procedure of sacking workers arbitrarily under the excuse of "downsizing" should be immediately stopped.
President Hassan Rouhani's administration has repeatedly promised to pay the overdue wages, but never did.
In the meantime, hundreds of workers at Haf Tapeh Sugar Cane Mill assembled for the second consecutive day on Saturday, August 4, outside the industrial complex's management office to demand their rights.
The Haft Tapeh workers have been protesting against privatization of the complex, demanding its reinstatement as a public factory. Last April, their union in a statement said, "Not only the workers have not received their salaries for months, they have also not received their New [Iranian] Year (Beginning March 21) bonus. Furthermore, they are being subjected to legal prosecution instead of their employer being held responsible".
The financial situation of blue-collar Iranians hasn't improved much in the nearly four decades since the Islamic revolution. Urban family incomes average around $800 a month, with a minimum wage of around $200 a month, which is what many workers get.
"Where in the world is a worker whose wage is four times below the poverty line forced by the police to work?" activist Jafar Azimzadeh recently moaned in a video posted on the messaging app Telegram. "This is a crime. This is slavery."
While the workers' protests continue across Iran, the Islamic Republic's Supreme Leader Ayatollah Khamenei believes that foreign enemies [a reference to USA, Israel and Saudi Arabia], as well as Iranian dissident groups are behind the labor unrest.