One of the detained Gonabadi dervishes, Mohammad Raji, who was himself previously the commander of the Revolutionary Guards Corps during the eight years of the Iran-Iraq war, was killed by police during interrogation at a police station.
Mohammad Raji who was arrested during the peaceful protests on 20th of February was murdered during Polis interrogations on an unknown date and his family was informed on Monday 5th of March 2018.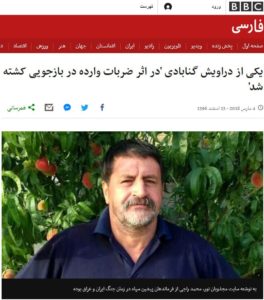 The daughter of Mohammad Raji said in an interview with RadioFarda on 5th of March, that the family of Mr Raji had been contacted by Polis and threatened to agree on that the body of the Mr Raji must be buried immediately and during the night. However, the family of the deceased did not agree on this.
According to his daughter, the Polis men stated: Either you agree that we bury him during the night or you will never receive the body.
Despite the disagreement of the family of Mr Raji, his body was buried in the middle of the night in total silence. Not even his nearest family members were present at the burial ceremony. We received this video clip from the transport of the body of Mr Mohammad Raji on March 6th, 2018 in the middle of the night.