RFL/RE – Former President Mahmud Ahmadinejad has once again lambasted the judiciary, this time while standing on the steps outside the courtroom where his close ally, Hamid Baghaei, was on trial for financial corruption.
---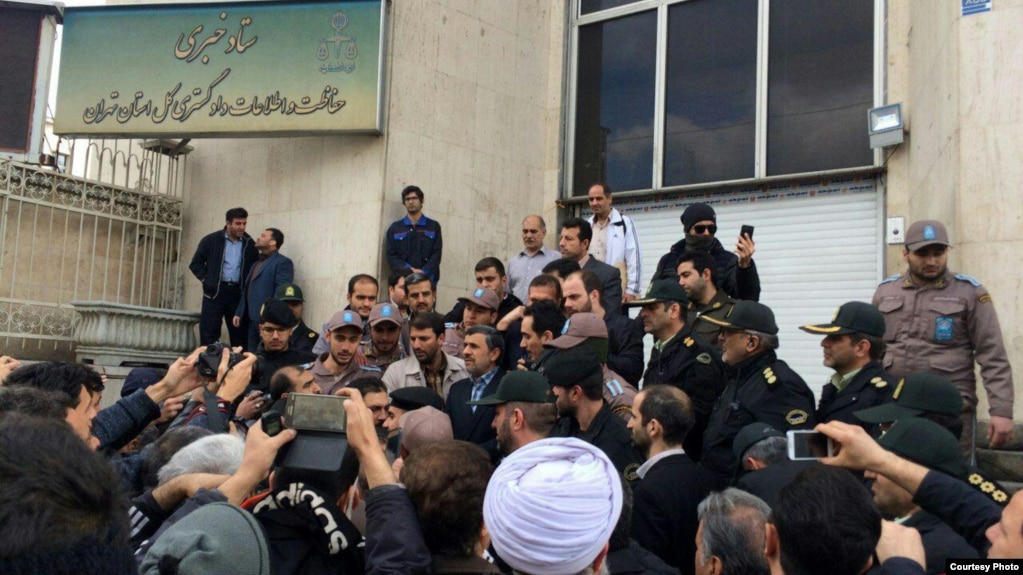 While Baghaei's trial was under way, Ahmadinejad accused the judiciary of "confrontation with the people."
Referring to the recent alleged suicides at Iranian prisons, Ahmadinejad said on February 14, "They [the judiciary and the Islamic Revolutionary Guards Corps] carelessly detain people, deliver their dead bodies later and claim that they were drug addicts who committed suicide."
Furious for not being allowed to enter the courtroom, Ahmadinejad lamented, "They had announced that the trial is open to public, but, when we tried to attend it, they stopped us. The Islamic Republic's judiciary is in confrontation with the nation."
Ahmadinejad, without missing the chance to mention the Islamic Revolution's 39th anniversary, maintained, "The revolution occurred to let the people freely express themselves and defend their rights without any reservation."
The ex-president, who has become critical of the top leadership, went even further in his remarks and blamed Supreme Leader Ayatollah Ali Khamenei of ignoring the people's demands.
"Whenever we want to complain about this injustice, we don't know where to go or to whom. The supreme leader says, 'I have no responsibility, since the administration bodies are independent.' Therefore, who is accountable in this country?"
Last year, Ahmadinejad had sarcastically commented that the head of the judiciary was more powerful than the supreme leader.
Deriding the dilemma, Ahmadinejad affirmed, "We have grievances against the government and judiciary; are we expected to seek justice through them who are responsible for our discontent?"
Directly aiming the whole regime, Ahmadinejad said, "It is obvious that people do not trust the ruling system."
However, the former president reiterated that he expected change. "Soon, the situation will be changed in favor of the nation," he said.
Ahmadinejad, a hard-liner who was president from 2005 to 2013, has become increasingly isolated for challenging Khamenei and his powerful allies, namely the judiciary.
Attempts for mediation between Ahmadinejad and the head of judiciary, Ayatollah Sadeq Amoli Larijani, have failed so far.
Khamenei has preferred to avoid any open confrontation with the vociferous former president.