Al-Arabia – The head of the CIA on Sunday denied his agency had any role in fomenting the recent anti-government protests in Iran but predicted the violent unrest "is not behind us."
---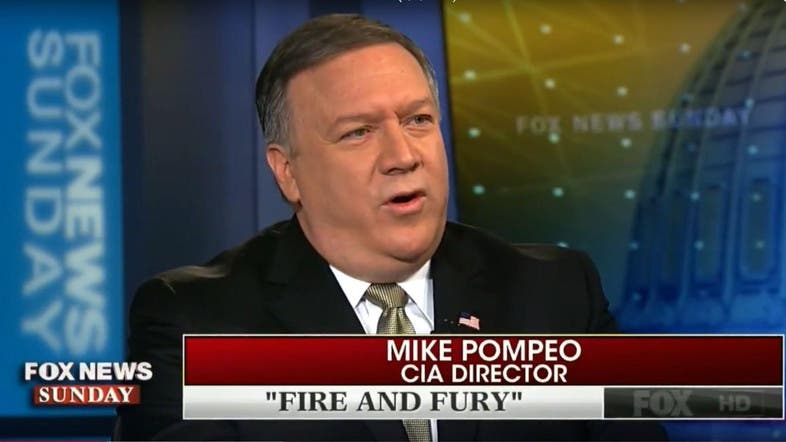 Mike Pompeo, named a year ago by US President Donald Trump to head the intelligence agency, told Fox News Sunday that economic conditions in Iran "are not good."
"That's what caused the people to take to the streets," he said. He blamed what he called Tehran's "backward-looking" regime for turning a deaf ear to the voices of the people.
Asked about a claim by Iran's prosecutor general, Mohammad Javad Montazeri, that a CIA official had coordinated with Iran's regional rivals to work with exiled Iranian groups to stir dissent in Iran, Pompeo replied simply: "It's false."
"This was the Iranian people — started by them, created by them, continued by them, demanding a better set of living conditions and a break from the theocratic regime."
Looming deadlines
Trump has repeatedly tweeted his support for Iranian protesters while castigating the Tehran regime, seizing on the recent unrest to again slam the multiparty nuclear deal with Iran as deeply flawed.
Trump faces deadlines around mid-month on whether to renew temporary waivers or restore US sanctions on Iran. In October, Trump refused to certify that Iran was respecting its commitments under the 2015 nuclear accord, but did not reimpose sanctions or abandon the deal itself.
The administration has not revealed its intentions, but the Iran unrest is seen as a possible pretext for blowing up the nuclear accord.
The US Congress has been working on legislation aimed at tightening terms of the agreement in ways that might satisfy Trump's demands, and Pompeo expressed careful optimism that it might succeed.
"They could do something," he said. "They could take some of the weaknesses from the agreement… extend deadlines (and) snap back sanctions into place where they could really happen."
But Bob Corker, head of the Senate Foreign Affairs Committee, said last week that while talks on Iran were continuing with the White House and its European partners, no new bill was imminent.
Any agreement, Corker said, would take several more weeks to work out.
Last Update: Monday, 8 January 2018 KSA 09:22 – GMT 06:22