RFL/RE – In Iran, it's more often women disguising themselves as men to sneak into sporting events, where they are banned.
---
But in a reversal of sorts, the male coach of the Thai women's national kabaddi team wore a head scarf to the Asian Kabaddi Championship in the Iranian city of Horgan on November 26 to evade a ban on men attending women's sporting events.
The incident prompted an angry response from Iran's Kabaddi Federation, which in a statement on November 29 apologized for the "sad incident" and criticized the Thai coach, accusing him of conning security and sneaking into the stadium.
But in an interview with RFE/RL's Radio Farda, Somprach Phonchoo said he was made to wear a head scarf to get in.
"Yes, I was told so," Phonchoo said. "I said, 'I want to go inside because the Thailand [team] has no woman coach. During [a] competition [it is] important for the coach of the team [to attend].'"
Phonchoo said he was "not angry" because the head scarf is part of the "culture in Iran," although he said he was still "upset" by the incident.
Iran's Kabaddi Federation said it would report the Thai coach to the World Kabaddi Federation, even though it said he was removed from the stadium "after a few seconds."
Photos of a glum-looking Phonchoo have circulated widely among Iranians on social media, with a dose of sarcasm and mockery.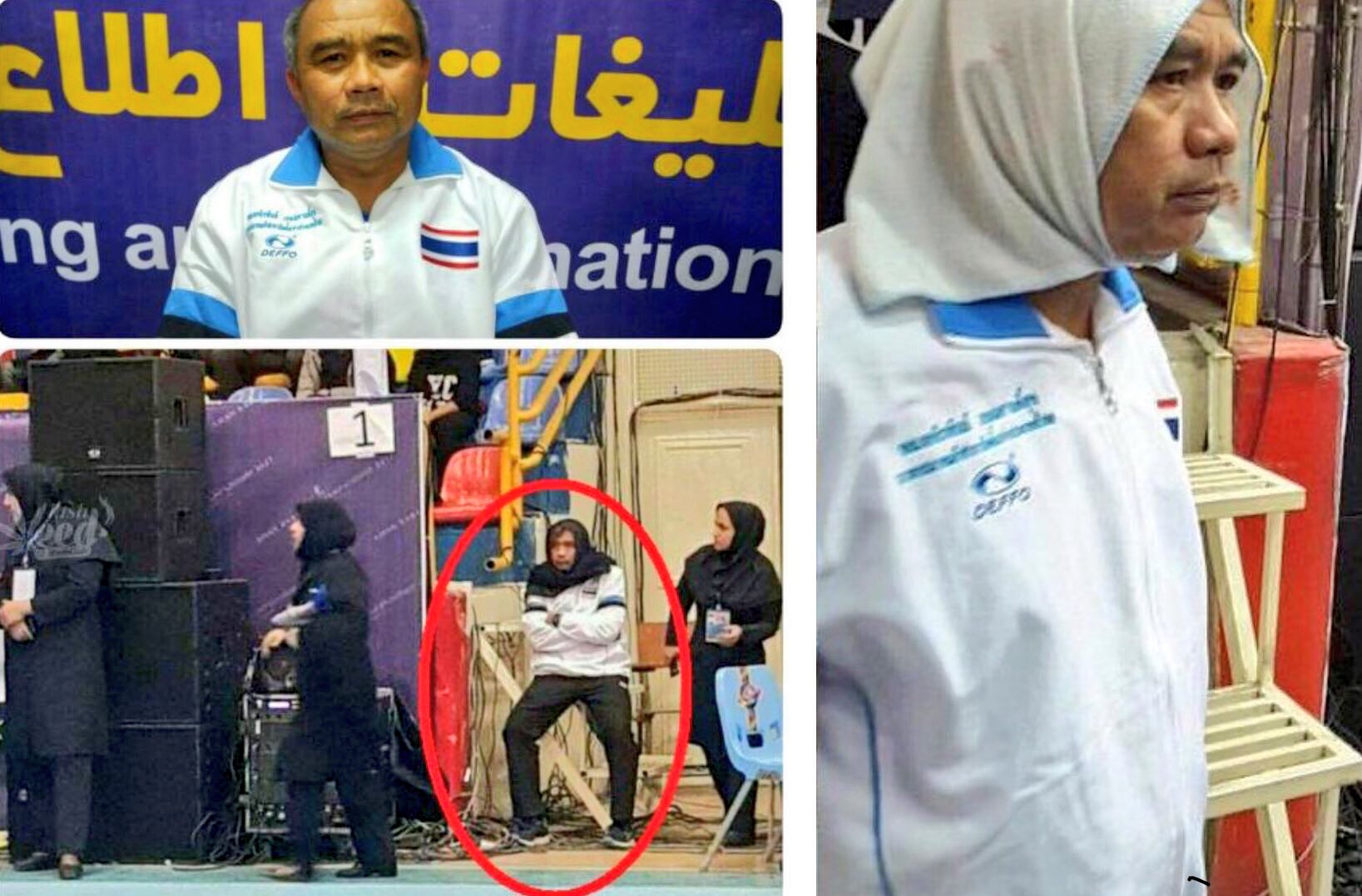 View image on Twitter
Hadi Nili
✔
@HadiNili
In other news from #Iran: The coach for Thailand Women's Team had to wear (a sorta) Hijab, apparently to pretend he is a woman, in order to be allowed into the the arena & lead his team during the Asian Kabaddi Championship tournament in Gorgan.
Mahsa Jazini, a journalist with the reformist daily Shargh, tweeted a photo of the coach and posted a message with a laughing emoji: "The first instance of violence and discrimination against men in Iran."
Mahsa Jazini
✔
@JaziniMahsa
اگه شرح این عکس که تو شبکه‌های اجتماعی پخش شده درست و واقعی باشه باید گفت اولین نمونه خشونت و تبعیض علیه مردان تو ایران در جریان مسابقات قهرمانی #کبدی زنان آسیا رخ داده?.می‌گویند مربی تایلند مرد بوده روسری سرش کردند بتونه بباد داخل!
8:18 PM – Nov 28, 2017
6 6 Replies 30 30 Retweets 246 246 likes
Twitter Ads info and privacy
Another Twitter user, Hosein Norouzi, tweeted: "Tomorrow, they will probably say: After seeing the religious and friendly people of Iran, he chose hijab himself."
The incident came amid persistent calls for Iran to lift the ban on women attending major men's sports events.
Iranian authorities say the ban is needed to "protect" women and Islamic norms. They say the atmosphere in sports stadiums is inappropriate for women because of the revealing nature of the athletes' uniforms and due to the prevalence of crude language at the events.
But women's rights activists say the ban is an example of gender discrimination in the Islamic republic, where women are expected to maintain a strict dress code and contact between members of the opposite sex outside of close family or marriage are discouraged.
Women have sometimes resisted the ban and entered stadiums disguised as men.
Kabaddi is a contact sport, akin to a rough game of tag, that pits seven-member squads against each other for forays into the opponent's territory. It is said to have originated in southern India and is particularly popular in Asia.
Frud Bezhan covers Afghanistan and the broader South Asia and Middle East region.