VOA – A newly passed Senate bill that would impose additional U.S. sanctions on Iran faces uncertain prospects for passage in the House, whose members are expressing differing views about its efficacy.
---
Hours after the Senate approved the Countering Iran's Destabilizing Activities Act in a near-unanimous 98-2 vote Thursday, the House's majority Republican leaders had not said when they will act on it. The bill also would sanction Russia for interfering in the 2016 U.S. election, a charge Moscow denies.
The Senate bill would impose financial restrictions on people involved with Iran's ballistic missile development and with the Iranian Revolutionary Guard Corps.
Strong bipartisan support
The legislation won strong bipartisan support from majority Republicans and minority Democrats who see Iran's ballistic missile activity as destabilizing to the region, and who accuse the Islamic Revolutionary Guard Corps (IRGC) of involvement in international terrorism.
Iranian leaders say their ballistic missile program is defensive in nature. They also say Iran is the victim of international terrorism rather than the perpetrator.
Republican Congressman Scott Perry speaks to VOA Persian at Washington's Grand Hyatt hotel, June 14, 2017.
The Senate's proposed Iran sanctions got a mixed response from House members who spoke to VOA's Persian Service at a Washington event Wednesday night, before the bill won final Senate approval.
The lawmakers were attending a dinner held by the Endowment for Middle East Truth (EMET), a U.S. research group that educates American policymakers who want to strengthen the U.S.-Israel alliance.
Republican Congressman Scott Perry said he wants to ensure the Senate's bill is strong.
"We have to look at it," Perry said. "My concern would be that (the sanctions) would be too weak, especially regarding Iran. That's really the focus; Russia is an afterthought. Somebody at some point is going to have to take some action if (the Iranians) keep heading in the direction that we suspect they will head."
Republican Congressman Mark Meadows speaks to VOA Persian at Washington's Grand Hyatt hotel, June 14, 2017.
Another Republican Congressman, Mark Meadows, said some House members have doubts about the effectiveness of U.S. sanctions in dealing with Iran.
"As you look at the sanctions, typically they are not as impactful as (those of) the European Union," Meadows said. "Typically, having the EU involved has a greater impact in the (Mideast) region. We're cognizant of that, but we're looking at all the options."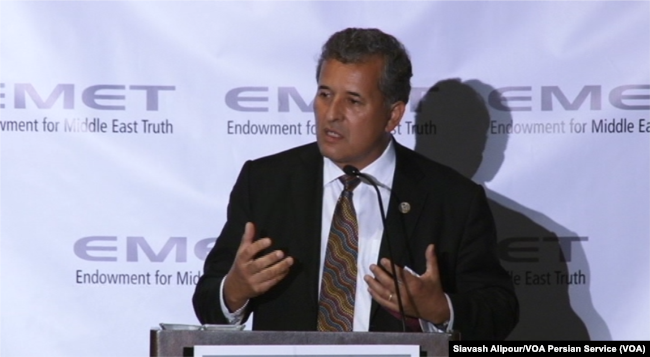 Democratic Congressman Juan Vargas had a more upbeat view of the House's prospects for adopting the Senate's measures against Iran's ballistic missile program and the IRGC.
"I certainly support those measures, and I think a lot of Democrats will too," he said. "The bill will have bipartisan support."
Democrat Congressman Juan Vargas speaks at a Washington dinner held by the Endowment for Middle East Truth, June 14, 2017.
No administration position yet
The Trump administration has not expressed a position on the Iran sanctions proposed in the legislation, which President Donald Trump would have to sign before they become law. But his administration has imposed several sanctions on Iran in recent months to punish it for carrying out a January ballistic missile test and for committing alleged human rights abuses.
The White House also is reviewing whether to re-impose Iran sanctions that Trump's predecessor, Barack Obama, lifted under the terms of the 2015 nuclear deal between Tehran and six world powers.
Israel's criticism
In a speech at Wednesday's EMET event, Israeli Ambassador to the U.S. Ron Dermer sharpened his criticism of the 2015 deal, saying it has "paved Iran's path to a nuclear bomb" because it automatically lifts restrictions on Iranian nuclear activities after a number of years.
"So the clock is ticking, the sands are coming out of that glass, and time is literally on their side," Dermer said. "Iran won't need to sneak in or break in to the nuclear club, in a few years, they can just walk in."
The Obama administration said the 2015 deal blocks Iran's path to a bomb by forcing it to freeze activities or damage infrastructure needed to develop nuclear weapons.
Israel, which is widely believed to be nuclear-armed, sees an Iranian nuclear weapon as a threat to its existence because of repeated calls from Iranian leaders for the destruction of the Jewish state.
"Israel and the Trump administration must deal with the fallout (from the 2015 agreement), and we will deal with the fallout," Dermer said. "We will deal with it because we must. Deal or no deal, America and Israel must stop Iran's clear path to the bomb." The Israeli diplomat did not elaborate.
Iran says its nuclear program is designed for peaceful medical research and electricity generation.
This report was produced in collaboration with VOA's Persian Service.
Michael Lipin
Michael covers international news for VOA on the web, radio and TV, specializing in the Middle East and East Asia Pacific. Follow him on Twitter @Michael_Lipin