Guardian – Fifty years after Forough Farrokhzad's death, Ebrahim Golestan talks about his affair with the giant of Persian literature
---
Forough Farrokhzad
Forty miles south of London, in a quiet West Sussex village, lives a 94-year-old Iranian intellectual who has for half a century kept silent about his former lover, a giant of modern Persian literature who was killed in a car accident aged just 32.
But 50 years after Forough Farrokhzad's sudden death, the reclusive Ebrahim Golestan has finally broken his silence, speaking out about the seriousness of their relationship and describing her as a poet who wrote honestly about the most fundamental human emotions.
Farrokhzad, one of Iran's most loved literary figures of the past century who was largely overlooked in the west, was known for her candid writings challenging the patriarchal limits of Iranian society and has been compared to Sylvia Plath.
Her relationship with Golestan, an enigmatic writer and film-maker, coincided with a period during which she wrote some of her most memorable works. But little was known publicly of their tryst, and many believed Farrokhzad's feelings were unrequited.
In a rare interview in his opulent, Victorian-era palace in the village of Bolney, decorated with paintings of some of Iran's most prominent artists, Golestan admitted that their relationship was mutual.
"I rue all the years she isn't here, of course, that's obvious," he said. "We were very close, but I can't measure how much I had feelings for her. How can I? In kilos? In metres?"
Mehdi Jami, who has written extensively about Farrokhzad's influence on Persian literature, said the film-maker made a significant impact on her writing, particularly in introducing her to modern literary movements in the west. "If you want to name one person that had the most influence on Forough, that's undoubtedly Golestan. They met each other at the right moment," Jami said.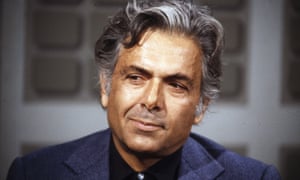 Ebrahim Golestan
Ebrahim Golestan, the Iranian writer and film-maker: 'I rue all the years she isn't here'. Photograph: ITN/REX/Shutterstock
"In every culture you have cultural icons, like Shakespeare in Britain. Farrokhzad was like that for contemporary Iran, someone who formed the identity of our contemporariness," Jami added. "She wrote in a simple and intimate way. She was not fake, nor was her poetry … She was the last prophet of truth-telling that our country has seen."
Mohammad Reza Shafiei Kadkani, Iran's most famous living poet, told the Guardian from Tehran that she was "truly modern", without talking about modernism directly in her poetry. "She was very natural. She was the epitome of a real poet in her own time," he said. "She had no masks, that's why today we still read her, and in future we will read her, too."
Golestan said two friends had introduced him to Farrokhzad in the late 1950s when she was looking for a job. At the time he was running a well-known studio in Darrous, an affluent area in northern Tehran. He left Iran a few years after Farrokhzad's death over his dismay at the political atmosphere under the Shah, and has lived in Sussex since 1975. He has never returned to his home country.
Golestan decided to give the young Farrokhzad a job answering phones in the office where 40 film-makers and photographers worked. He said it was months before they developed a relationship, although Golestan was married at the time.
We were very close, but I can't measure how much I had feelings for her. How can I?
Forough, who had married at 16, had separated from her husband after only four years.
Golestan said he loved the young writer as much as his wife, who knew about their relationship. "Imagine you have four kids, would you not like one because you like others? You can have feelings for them [and] you have feelings for two people," he said.
The Iranian scholar Farzaneh Milani has recently published a book that contains previously unseen letters from Forough to Golestan, given to the author by the intellectual himself, exposing for the first time the intimate nature of their relationship.
In one of the letters, believed to have been written a year before her death from London, where she was visiting, Forough writes: "Shahi [Golestan's nickname], you're the dearest thing I have in life. You're the only one I can love … Shahi, I love you and I love you to an extent that I am terrified what to do if you disappeared suddenly. I'll become like an empty well."
But Golestan has faced criticism for not publishing his own letters to her. When asked about this, he said he didn't have them. "When you write letters to somebody, do you think about the future and keeping them? Or making a copy?"
Fatemeh Shams, an Iranian poet and professor of modern Persian literature at University of Pennsylvania, said Forough's poetry was at times seen as so rebellious that it was kept hidden.
"I was 15 when I first found copies of Forough's poems, amongst old books that belonged to my mother. They had been in our basement for a long time. They were not shelved with the other books upstairs. I used to smuggle those offset copies to my room," she said.
"I did not learn the art of being proudly and passionately in love from [ancient Persian poets] Khayyam or Hafez, but from Forough: [she wrote of] a love with no shame, transcending all boundaries."
Forough herself has alluded into this, once describing her poetry as "a vital need, a need on the scale of eating and sleeping, something like breathing."
Golestan described Farrokhzad's poems as "compatible with the simple feelings of people", and downplayed his influence on her.
"She was influenced by her own efforts, as if she was a seminary student. She had the biggest influence on herself. I never saw her in a state of not being productive, she was like that."